District Assembly to honour Kutu Acheampong with Police headquarters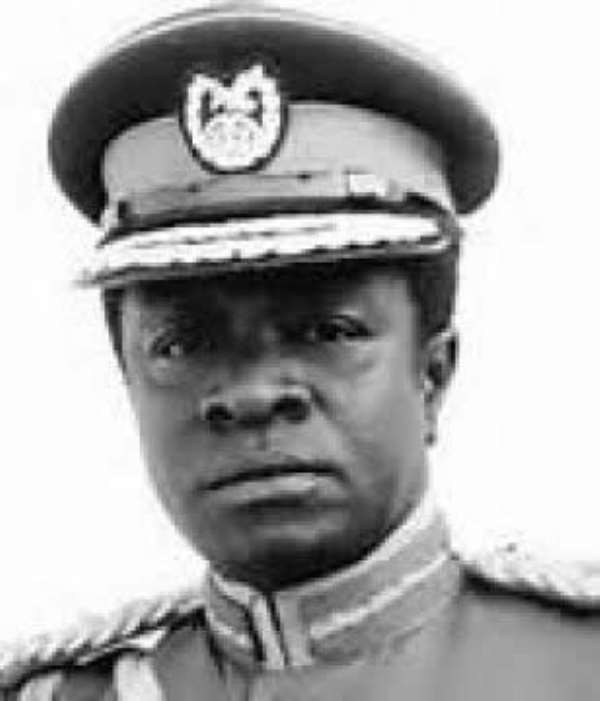 The Atwima-Kwanwoma District Assembly had resolved to site the District Police Command at Hwidiem to honour the memory of the late Head of State, General Ignatius Kutu Acheampong.
General Ignatius Kutu Acheampong was a military head of state who ruled from 13 January 1972 to 5 July 1978. He was deposed in a palace coup. He was later executed by firing squad.
The coup maker hailed from Hwidiem.
A copy of the assembly's resolution to site the dis­trict headquarters at Hwidiem, which was forwarded to the Police Administration in July 2013, has been sighted by the paper.
The Assembly explained, aside increasing the police presence in the district, the selection of Hwidiem for the district police head­quarters was also because Hwidiem also has key infrastructure such as offices, accommodation for police, among others.
The paper's checks revealed that the police post at Hwidiem, which is about five kilometres from Foase, the district capital, has an office block and semi detached bungalows built in the 1970s by General Kutu Acheampong.
he assembly entreated the police administration to expedite action on their request.
It said that the district, which was created in 2008 with Foase as its capital, has no police command.
The area has four police posts located at Trede, Twedie, Afasiebon/Kromoase and Hwidiem, all under the Asokwa Divisional Command in Kumasi.
The District Police Headquarters at Hwidiem would also help to deal with the increase in illegal mining activities in the district, and the neighbouring Amansie West District.
The Assembly also has plans of providing maximum security to protect the inhabitants and students of Afua Kobi Ampem Girls Senior High School, the only first class girls' school in the district.
The Assembly passionately appealed to the Police hierarchy to expedite action on the matter by inspecting police facilities at Atwima Hwidiem with the view of upgrading them.