Guinea-Bissau announces record turnout in elections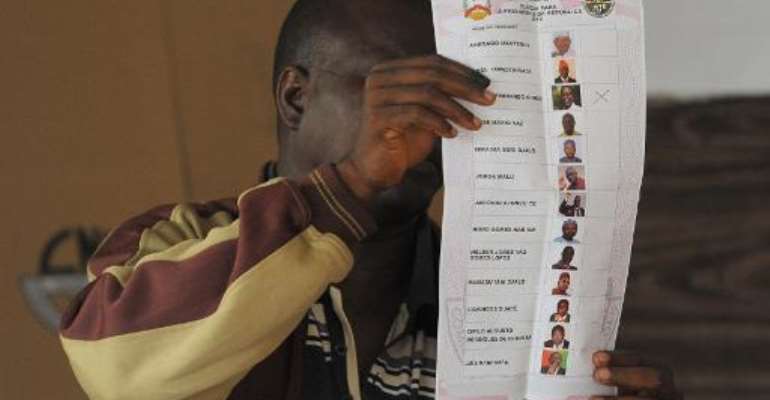 Bissau (AFP) - Turnout in Guinea-Bissau's watershed presidential and parliamentary polls was just under 90 percent, the election commission announced on Wednesday, a record for the impoverished west African nation.
The country went to the polls on April 13 for the first time since a military coup, in a vote aimed to turn the page on decades of political instability and military violence.
"These elections had the highest turnout in the history of elections in Guinea-Bissau, at 89.29 percent," commission president Augusto Mendes told reporters in the capital Bissau.
"The novelty in this general election is that there have been no appeals. This demonstrates transparency and strict compliance with the law."
Final results published on Wednesday confirmed Jose Mario Vaz as the winner, but he didn't get an outright majority and will face runner-up Nuno Gomes Nabiam in a second round on May 18.
Vaz was the finance minister in the cabinet of prime minister Carlos Gomes Junior, who was overthrown by the 2012 military coup.
Guinea-Bissau has seen four decades of chaos marked by a series of coups since it won independence from Portugal, and commentators have called for the new regime to finally bring the military into line.
For the last two years the country has been stagnating under the rule of a transitional government backed by the army.
The anaemic economy has fuelled corruption in all public institutions, but especially the military, which is accused of allowing South American drug cartels to turn the country into a cocaine trafficking hub.
Vaz's African Party for the Independence of Guinea-Bissau and Cape Verde, which led the 1963-1974 war of independence against Portugal, won the parliamentary polls running alongside the presidential vote, gaining an absolute majority of 57 seats in the 102-member legislature.