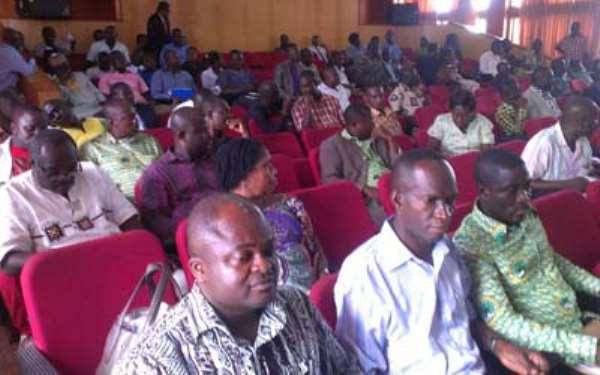 Section of the assemblymen present
Section of the assemblymen present
The guards of the Kumasi Metropolitan Assembly (KMA) will soon be trained in Karate, Judo and Taekwondo to make them physically and mentally ready to fight crime and maintain law and order in the city.
The Chief Executive of KMA, Kojo Bonsu announced at the First Ordinary Meeting that plans were far advanced to offer training to the Metro Guards.
'Arrangements are almost complete for our metro guards to be trained by the Headquarters of the Northern Command,' the Kumasi Mayor said to a rapturous applause from the assemblymen.
He explained further that 'the focus of the training will be on work ethics, first aid, voice procedure, discipline, endurance drills, martial arts, namely unarmed combat, Judo, Karate and Taekwondo.'
Kojo Bonsu said the new policy is, among other things, aimed at instilling discipline in the Metro Guards who have over the years been accused of collecting bribes, truancy and unprofessionalism.
As part of efforts to enhance the work of the Metro Guards, he said a military officer had been appointed to head the KMA Security, adding that the Metro Guards had begun medical screening exercise to determine their fitness level before the start of the rigorous training.
'I believe strongly that the safety of our citizens must not be compromised and it's the catalyst in our bid to improve the lives of our people,' Kojo Bonsu stated.
He said his administration had pushed for the installation of CCTV cameras at the Central Business District and other trouble spots in the city under the Urban Development Grant III, noting that the proposal had been forwarded to the World Bank for final approval.
Kojo Bonsu enumerated some interventions that were being adopted by the assembly to keep the city clean.
He said Kumasi's former status as the Garden City was eroding, adding that the assembly was undertaking the Kumasi Urban Forestry Project to restore the status of Kumasi.
Kojo Bonsu cited various projects- a city hall complex, redevelopment of Rattray Park, among others, that would be executed to develop Kumasi.
The Kumasi Mayor entreated the assemblymen to collaborate to transform the city, noting that without unity they could not develop Kumasi.
FROM I.F. Joe Awuah Jnr., Kumasi