Befitting Burial For Shot Cops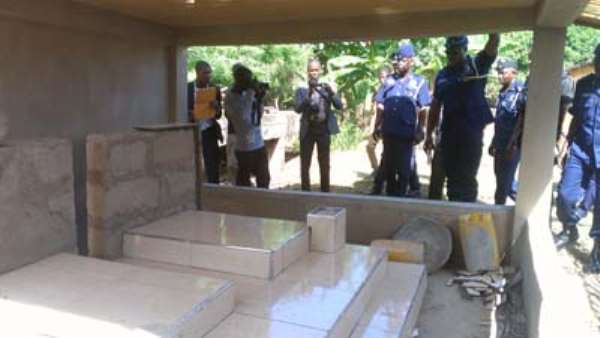 DCOP Kofi Boakye at the burial site of the two-shot cops at the Mampong Divisional Police Command
Two policemen that were killed at a bank at Asante Mampong by armed robbers have been given a befitting burial.
The slain cops, Constable Awere and Corporal Kusi, were shot dead by the hoodlums that undertook a robbery operation in the area.
The two cops were buried on the compound of the Asante Mampong Divisional Police Command.
The unfortunate incident occurred in the afternoon when people were going about their normal business about 10 years ago.
Constable Awere was on duty at a bank when suddenly the armed robbers popped up.
The armed robbers opened fire on Constable Awere, killing him instantly at the forecourt of the bank, the paper gathered.
The armed robbers, after the operation, saw Corporal Kusi in an oncoming car so they opened fire on him.
The gunshots attracted the attention of the police in the area, who stormed the place to shoot two of the armed robbers.
DCOP Kofi Boakye, speaking at the burial ground, said their death should be a constant reminder that armed robbers are dangerous.
He said the burial of the two cops at the compound of the Asante Mampong Divisional Police Command should spur police personnel to go the extra mile to arrest armed robbers before they strike.
DCOP Kofi Boakye insisted that armed robbers are nation wreckers so the police should do everything possible eradicate their activities.
FROM I.F. Joe Awuah Jnr., Mampong, Ashanti