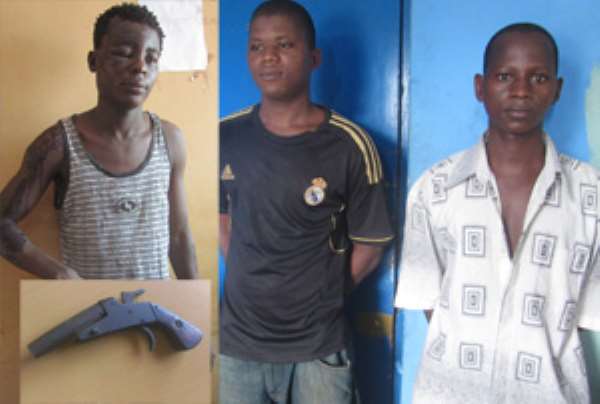 Michael Narh(Left) with the two Fulanis.INSET:The locally-manufactured pistol used for the operation.
A member of a robbery group that has been terrorizing residents of Mataheko in Tema, has been apprehended by the Mataheko/Emef police after snatching a vehicle from a pastor of the Great Miracle Faith Chapel at Mataheko at gunpoint.
The culprit, Michael Narh, a 19-year-old mechanic and resident of Old-Tulaku in Ashaiman and his accomplice, whose name was given as Kwabena and currently at large, were said to have stormed the residence of the reverend minister and robbed him of his vehicle.
Immediately after they robbed the unregistered Toyota Corolla at the house of the pastor at 2nd bridge at Mataheko, some members of the area called the patrol team that responded swiftly.
Kwabena and Michael undertook the operation on a motorbike.
Kwabena was said to have used the butt of a locally manufactured pistol to hit the head of the pastor, who bled profusely.
Superintendent Kwesi Ofori, the Dodowa District Police Commander told DAILY GUIDE that the incident occurred on April 20, 2014 at about 5:30pm.
The pastor was in the process of opening his main gate when the armed robbers stormed the house and collected his car key and unspecified amount of money, he said.
According to him, the police, after receiving the information, chased the armed robbers who drove the vehicle into a ditch.
He noted that immediately after the accident, the armed robbers attempted to escape but Narh was arrested with the assistance of some members of the area.
The Dodowa Police Commander mentioned that they found the locally manufactured pistol on him after a thorough search, adding that Kwabena, who managed to escape, is believed to have sustained injuries.
He called on the health facilities in the country to cooperate with the police to help arrest Kwabena to face the full rigors of the law.
He added that the suspect would be arraigned before court after investigations.
In a related development, two Fulanis, who have launched several attacks on passengers on the Shai Hills-Akosombo Highway, have also been arrested by the Afienya Police.
The suspects, Aminu Jumai, 23 and Abubakar Adams, 20, both residents of Afienya, were said to have robbed some travellers at Afienya of their valuables.
The victims identified the suspects during an identification parade organized by the Dodowa District Police Headquarters.
From Vincent Kubi, Mataheko