Ngleshie Alata stool swears in traditional council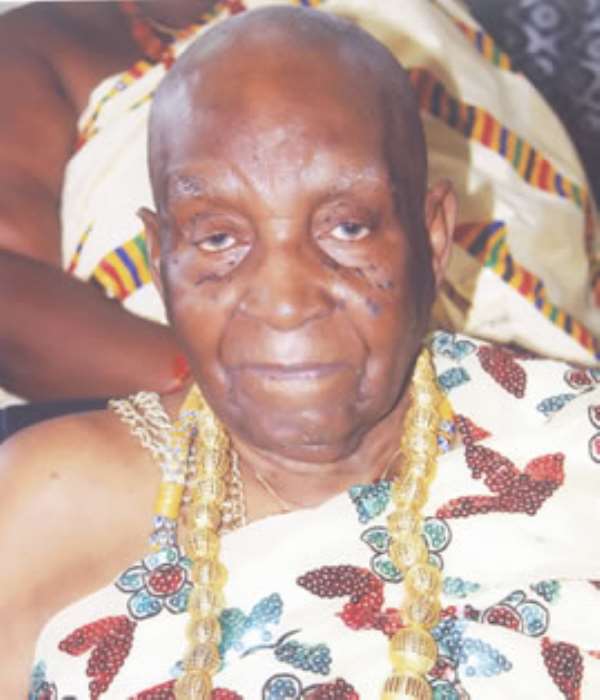 Oblempong Nii Kojo Ababio v
Accra, April 22, GNA - The Ngleshie Alata Traditional Council members were sworn into office on Tuesday, with a call on them not to use their positions to open the flood gates for litigation.
The ceremony took place at the Ngleshie Alata Palace to crown activities marking the elevation of the area to paramount status.
This followed recommendations made by a Committee instituted by the National House of Chiefs to look into the merits or otherwise of applications for the elevation of some divisional stools in the Ga Traditional Area.
There was a resolution by the House as well as the establishment of two sub-committees in accordance with the 1992 Constitution, and the Chieftaincy Act, 2008, Act 759.
Mr Harry Atikpoe, Registrar, Greater Accra Regional House of Chiefs said: Do not compound the many litigations already pending before the regional house of chiefs but rather channel the energies into the development of the area.
Monies used on litigations could be used to improve the lots of the children of school going age as well as begin important community projects such as libraries, community centres and recreational facilities.
The numerous chieftaincy disputes and litigation in the Region could only be resolved through the goodwill of all parties involved rather than the law courts and the media.
Out of 29 chiefs who were sworn into office 14 have been gazetted while the rest are awaiting completion of the process.
The registrar therefore cautioned those awaiting the completion of the process not to adjudicate judicial cases until their names have been gazetted.
Oblempong Nii Kojo Ababio, Paramount Chief of Ngleshie Alata, noted that the elevation of the stool calls for a change in conception, perception, administration and management of the paramountcy.
He said since the elevation of Ngleshie to paramountcy, it has established a Wetse Kojo endowment fund for development, inaugurated a stool land secretariat and has been in fruitful meeting with investors to set up projects to offer jobs to the youth of the area.
He said so far about 11 chiefs have been gazetted and expressed the hope that the second phase of gazetting would be completed without any hindrance.
"Let us not forget that the chieftaincy institution is a noble one and we must all, therefore, as chiefs, work hard to achieve amicable settlement of disputes within the society and ensure peaceful co-existence' , he said.
Mrs Justice Patience Mills-Tetteh, a high court judge sworn the chiefs into office. They swore the oath of membership and oath of secrecy.
GNA