Student jailed 30 years for robbery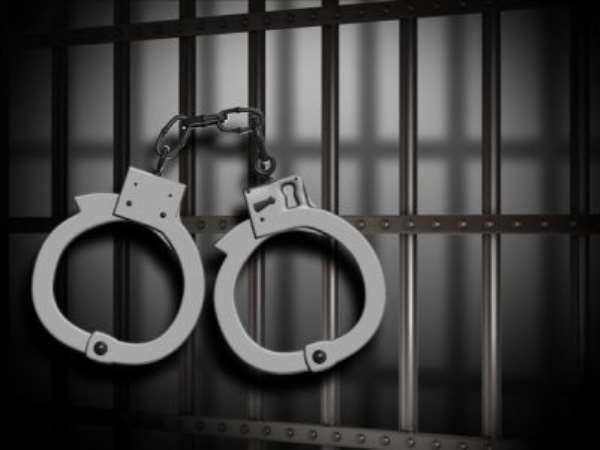 Jail Bars and Cuffs
Kumasi, April 21, GNA A student of the Kumasi Polytechnic, standing trial at a Kumasi Circuit Court over robbery, has been sentenced to 30 years imprisonment.
Fredick Kwadwo Owusu, 28, was arrested after a botched daylight robbery attack, on Wednesday, April 16.
He pleaded guilty to conspiracy to commit crime and robbery.
His accomplice, whose name was only given as Junior is however, on the run.
Police Inspector Gulliver Tenkorang told the court presided over by Mr William Boampong, that the convict and his fugitive friend had engaged the services of a taxi driver to carry them to Ahinsan Estate.
Midway through the journey, they pulled a pistol, ordered him to stop and get down from the car.
The prosecution said the driver, noticing that the weapon was not lethal but a toy gun, engaged Owusu in a struggle as he kept screaming for help.
This attracted some people in the neighbourhood, who helped to arrest him together with the toy pistol and handed him over to the police.
His accomplice managed to slip through with a cash of GH125.00 and two cellular phones stolen from the driver.
Passing the sentence, Mr Boampong, said he found it disturbing the increasing incidence of robbery in the metropolis and expressed the hope that stiffer punishment would serve as deterrent.
GNA