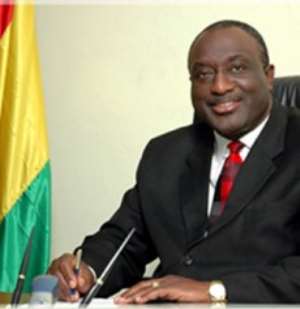 A group supporting the flagbearership bid of former Minister of Trade, Industry and President's Special Initiatives says Alan Kyeremanten appeals more to floating voters than any of the other aspirants wishing to lead the main opposition New Patriotic Party into the 2016 general elections.
Friends of John Alan Kwadwo Kyeremanten [FOJAKK], in a statement, said: "Mr Alan Kyeremanten is well carved out for the job and commands a wide appeal among floating voters, who are indeed the king makers as far as electoral victory is concerned."
The group says Mr Kyeremanten, as a member of the party's national executive committee since 1992 to date, and also a founder-member, key strategist, founder-member of the Young Executives Forum, former Cabinet Minister, former Ambassador, amongst others, has more than what it takes to woo more votes for the NPP if elected as flagbearer.
In 2007, Mr Kyeremanten came second to the party's two-time flagbearer Nana Addo Dankwa Akufo-Addo in the presidential primaries which 17 aspirants vied for. He had 32.3% and Nana Akufo-Addo had 47.96 percent. He was magnanimous by conceding to the former Attorney General even though he had the privilege of a run-off since no one crossed the 50 percent mark as stipulated by the party's constitution.
Mr Kyeremanten lost a second time in a five-man contest which saw Nana Akufo-Addo win by a landslide margin. He had 77.92% while Alan Kyeremanten came second with 20.40%. The other contestants include Ghana's former UK High Commissioner and Ambassador to Ireland Isaac Osei; heart surgeon Prof Kwabena Frimpong Boateng and Rev Kwame Kodua. The three of them put together had less than 2% of the votes cast.
The party heads for the polls to elect a flagbearer in December.