April Fool's Day Causing Havoc in Ghana, All Due to "Suatra"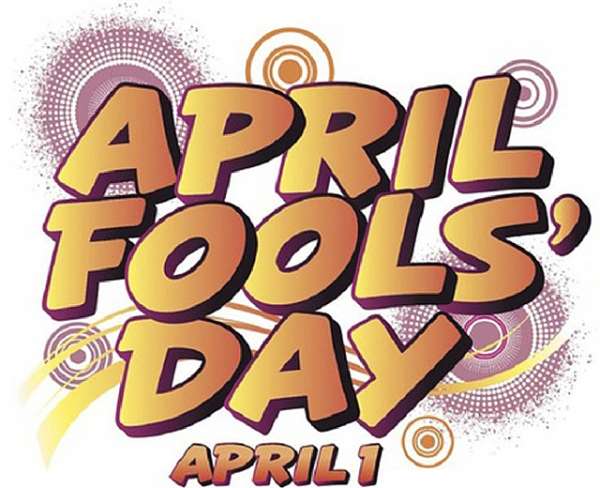 Every first day of April is April Fool's day and this event is celebrated throughout the world. This is the day when people play practical jokes, pranks and hoaxes on each other. April fool's day, also called All Fool's day, is supposed to be the most light-hearted day of the year, but in Ghana, due to over-exaggeration and the tendency to over-do (suatra), it may lead to severe anger, retaliation, court proceedings and even death.
It is not certain where All Fools Day originated from. One school of thought believes that it is a celebration related to the turn of the season, while others also believe that it stems from the adoption of a new calendar. However, there is a problem with the two explanations, in the sense that they don't fully account for the spread of April fool's day throughout the world. Another explanation of the origin of April fool's day which sounds more convincing was provided by Joseph Boskin, a Professor of History at Boston University. He explained that the practice began during the reign of Constantine when a group of court jesters and fools told the Roman emperor that they could do a better job of running the empire. Constantine, very amused decided to allow a jester named Kugel to rule for one day. Kugel passed an edict calling for absurdity on that day which was 1st April, and the custom became an anniversary event. It turned out later that Boskin's explanation was a deliberate lie. He was playing an April Fool's Day joke because he completely made up the explanation. It took weeks for people to realize it was a joke.
  
Ghanaians have often celebrated April fool's day with very serious and damaging jokes. On the 1st of April this year a young man called the fire service because her sister's house in which he was living was on fire. The fire service did not respond. They knew the day was April fool's day and they had already had two false alarms. After twenty minutes they heard the announcement on a radio station about the burning house. It was the same house the young man had previously called them about. They got on the lorry and sped off towards where the house was burning. When they reached there, the house and its contents were completely in ashes. When the female owner of the house who lives in Germany heard this, and realizing that the product of her thirteen years in Germany had burnt to ashes, she wept bitterly. All fool's day havoc indeed!
In another occurrence, a woman prepared rice and fish stew and put a portion in a plate. She put it in a basket, covered it with a towel and placed it on the head of her step-son and told him to send the food to his uncle at Mamprobi. He left home from Dansoman and went to Mamprobi. His uncle, who knew what was happening, directed the boy to send the food to his shop at Kaneshie market and that his brother would be there to receive it. He joined a tro-tro bus to go to Kaneshie. On the bus he over-heard a man talking about the day being April fool's day. He began to think that he was being fooled. He got down at the next stop and found a convenient place to sit. He ate the food and threw the plates and the basket into a garbage container and went home. On arrival, he told the mother that his uncle told him to leave it to his brother which he did. Who was fooling who?
A journalist, Victor Adeyemi, wrote that Okyeame Kwame's wife had filed for divorce. According to him, the hip life star was scheduled to appear before an Accra High Court over a divorce case initiated by his wife. The news went out very fast and Okyeame had to refute the news in several newspapers only to find out later that it was an April fool's day joke.
About two years ago, Kwame Adinkrah, a Presenter of Fox FM in Kumasi, played a very expensive April Fool's Day joke on Mobitel Ghana Limited. Kwame Adinkra announced on his morning show program that Mobitel was switching its network from the analogue system to GSM. He said that customers of Mobitel were to submit their analogue handsets before noon to the workers of the company at Nhyiaeso and receive a new GSM phone already connected to the internet. Hundreds of customers flocked to the company's office to get the new phone. However, the whole thing turned out to be an April fool hoax much to the disappointment of customers. This infuriated the staff and management of Mobitel. They contemplated a court action against the presenter, Kwame Adinkrah.
On the morning of 1st April, an announcement was made at Adom FM that the ace presenter, Captain Smart, had been arrested by the BNI officers. In no time, the office of the BNI was flocked by friends and well-wishers who wanted an explanation for his arrest. His parents travelled from the village to Accra only to find him at his office with a cup of tea on his table. It was an April fool hoax!
A boy told his father that he had been awarded full scholarship to study medicine at Princeton University in the U.S.A. The excitement of his father knew no bounds. He announced to the entire family that this great news called for celebration. His father planned to sell his Range Rover later on to make sure there was money available for his ticket. What the boy told his father was a mere April fool hoax. He gathered courage and told his father that he should not take what he told him serious. It was just an April fool hoax. This was too much for the father to bear. He fainted and was rushed to the hospital.
  
So many April fool disasters have gone on in Ghana and what everyone is asking is whether it will not be appropriate for the celebration of April Fool's Day to be abolished in Ghana. Any action that may be taken in future lies within the womb of time.
Written by Stephen Atta Owusu
Author: Dark Faces at Crossroads
Email:[email protected]