No rift with top pathologist: Pistorius's lawyer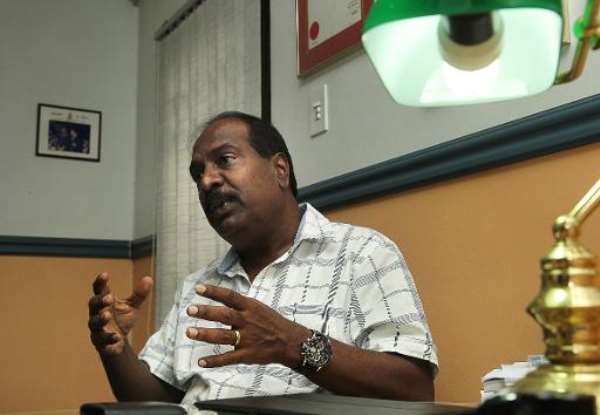 South African pathologist Reggie Perumal in Pretoria, on September 1, 2012. By (AFP/File)
Pretoria (AFP) - The pathologist hired by Oscar Pistorius will not give evidence at the athlete's murder trial because of scheduling issues and not due to any contradiction with the defence's case, one of the Paralympian's lawyers said Friday.
Private forensic pathologist Reggie Perumal, who witnessed the autopsy of Pistorius' girlfriend Reeva Steenkamp, told AFP Thursday he would not testify, sparking speculation that his decision was because his findings back key parts of the prosecution case.
"That is not true!", Brian Webber, one of Pistorius's lawyers told AFP on Friday.
"If we want him to testify, he will. He remains a member of the defence team."
Webber said that while the pathologist "won't probably testify", the decision to call a different forensic pathologist to give evidence "was made on the basis of Dr Perumal's availability".
Perumal's decision to not take the stand attracted the attention of his fellow forensic pathologists.
Steve Naidoo, another pathologist, had said he had "heard that it might be because he refused to amend his version".
In Perumal's place, the Pistorius team called former state pathologist Jan Botha to give evidence in the athlete's defence.
In a break with protocol, he was called as the team's first witness instead of Pistorius.
The athlete, who is known as the blade runner for the prosthetics he uses when competing, says he killed his girlfriend on Valentine's day last year accidently after mistaking her for an intruder.
The testimony from both the state and defence pathologists has centred on the athlete's account of what happened that night and the autopsy conducted on the 29-year-old law graduate and model.
Gert Saayman, the pathologist called by the prosecution, said vegetable matter in Steenkamp's stomach suggested she ate around two hours prior to her death at 3:17 am, a finding that conflicts with Pistorius's version of events that the couple were peacefully asleep at that time.
However Saayman suggested that Perumal, who was with him when the autopsy was carried out, had not disagreed with his findings.
"To the best of my recollection he was in agreement," Saayman said.
"We must be, so to speak, on the same page before we leave the autopsy room," he said.
While giving evidence, Jan Botha disputed Saayman's conclusion saying that determining the time of death through gastric emptying is a "highly controversial and inexact science".
The case, which adjourned Thursday lunchtime, will be back in session on May 5.