2 US institutions honour Bishop Annor-Yeboah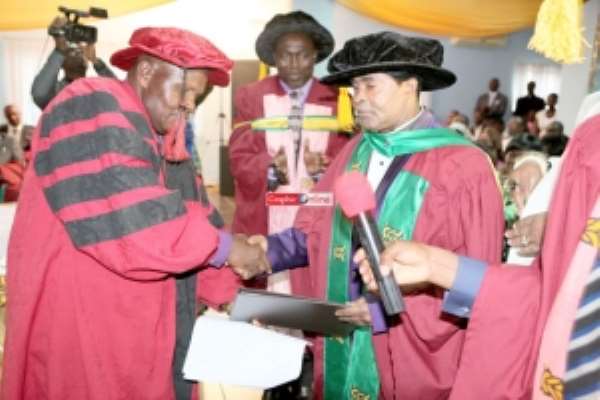 Two academic institutions in the US have conferred honorary awards on the Founder and Presiding Bishop of the Christian Praise International Centre (CPIC), Bishop Dr Augustine Annor-Yeboah.
The Dayspring Christian University (DCU) conferred a Doctor of Christian Education (Honoris Causa) on him, while the American Association of Christian Therapists (AACT) and the DCU approved him as an Associate Professor.
The two awards, which were conferred on Bishop Dr Annor-Yeboah at a ceremony in Accra last Saturday, were in recognition of his sterling pastoral work. Appreciation
"I stand here to give glory and honour to God and to thank Him for this award," Bishop Dr Annor-Yeboah declared in front of a cheering congregation at a church service at Pig Farm in Accra on Sunday.
He said the awards were very significant to him because they were in recognition of his ministerial work.
"When you do the will of God and you walk in His light, God has a way of recognising your efforts," he remarked.
Bishop Dr Annor-Yeboah thanked all the members of CPIC for their unflinching support that had earned him such international honour.
Other individuals were also given honorary awards at the ceremony which was held at the University of Ghana, Legon.
Writer's Email: [email protected]