Naturopathic Clinic for Prostate Cancer Established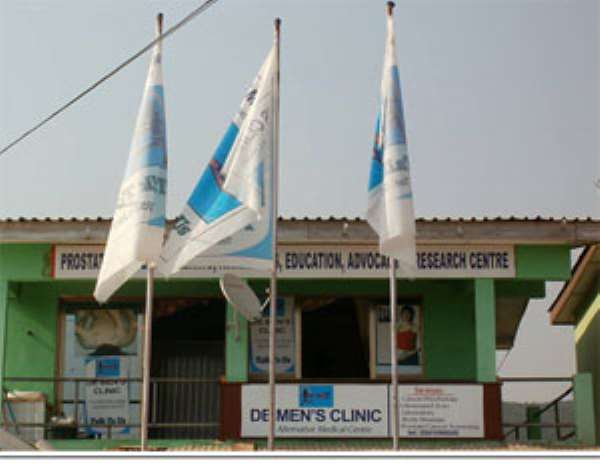 The De Men's Clinic 
Men's Health Foundation Ghana, one of the most popular prostate care organisations in Ghana, has established the first alternative prostate cancer treatment centre at Dodowa-Akoto House.
The clinic named De Men's Clinic & Prostate Research Lab aims at managing men diagnosed with prostate cancer using complementary therapies.
The clinic is manned by Raphael Obu, an MSC prostate cancer graduate of Sheffield Hallam University, UK and a registered naturopathetic doctor by the Traditional Medicine Council.
He also holds many certificate programmes in prostate cancer organised by the Prostate Cancer, UK and Cancer Nursing Organisation.
The centre is also licensed as an alternative medicine centre by the Traditional Medicine Council.  'Complementary' generally refers to using a non-mainstream approach together with conventional medicine.
The clinic has a laboratory, ultrasound scan, men sexual clinic, massage and physiotherapy and the Unique Men's Health Pharmacy. It also offers free prostate cancer screening every Saturdays.
According to Mr Obu, the health centre which offers 'naturopathy' treatments cover a range of therapies including diets and various physical techniques.
'The philosophy is that 'natural cures' can give the body the maximum opportunity to heal itself without interference. In the UK, the term is used to describe a core of 'therapies' arranged around the principles of dietary advice (including fasting), hydrotherapy and exercise,' he told DAILY GUIDE.
He said three basic models of how complementary therapies might be used in cancer care have been proposed and sometimes desperate patients seeking cure were more likely to pursue alternative methods of treatment, hence the reason for setting up the De Men's Clinic & Prostate Research Lab.
'Prostate cancer is affecting a large population of Ghanaian men and the use of complementary therapies will improve their quality of life and rates of survival,' he stated.
The De Men's Clinic