Dimension Data Makes Strides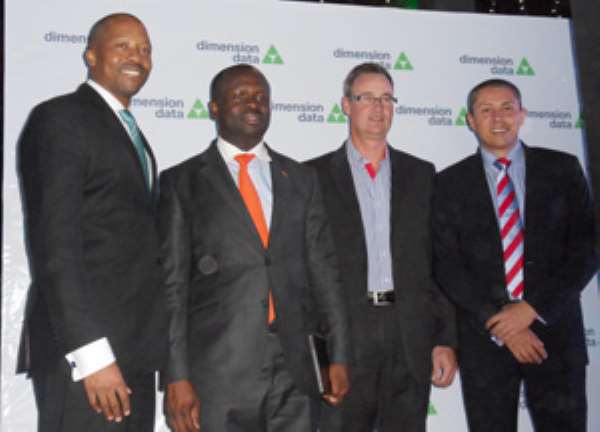 Officials of Dimension Data pose with Dr Omane Boamah, Communications Minister
Global Information Communication Technology (ICT) solution and services provider, Dimension Data has opened an office in Ghana.
The Group, which was founded in 1983, has been operating in West Africa for a decade.
The Group operates in Nigeria through its subsidiary Plessey.
It also operates in Ghana and Nigeria through Internet Solutions.
The Managing Director, West Africa, Dimension Data Glad Dibetso, at a press briefing in Accra, said that 'we are very excited to be expanding our African footprint. The market in West Africa is growing, and Ghana is going to play a key role in our growth journey.
'We look forward to working closely with our clients and partners in Ghana and develop locally relevant solutions to help clients accelerate their business ambitions,' he added.
Currently, the Group employs 37 permanent staff in Ghana and plans to increase its system integration skills and expertise over the next 12 months to provide opportunities to young local talents.
Cisco General Manager, West Africa Oludare Ogunlade stated that 'Dimension Data is a key strategic partner to Cisco globally. We have partnered the Group for many years across many markets. We look forward to working with Dimension Data in Ghana and expanding our global alliance in yet another territory.'
Microsoft's Country Manager, Ghana, Otema Yirenkyi said, 'Microsoft has operated in the Ghanaian market through our partner ecosystem for over 10 years. We see huge opportunity in this critical West Africa growth market and look forward to partnering Dimension Data to help our clients reach their full potential.'