Chinese Ambassador to Ghana pledges sincere cooperation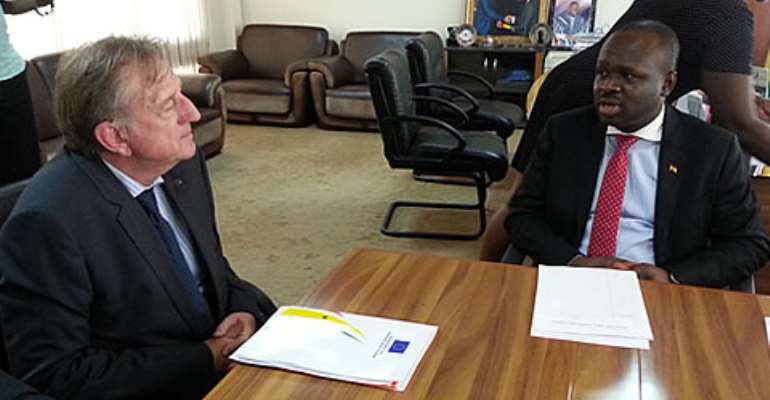 The new Chinese Ambassador to Ghana, Sun Baohong, has pledged she will personally intervene for the release of funds by the China Exim Bank for work on the national digital terrestrial television (DTT) project.
She said China was so keen on fostering further cooperation with Ghana in especially information technology and it was crucial for funds to be released for the migration of Ghana from analogue to digital television broadcast.
Ms. Baohong made the pledge when she called on Communications Minister, Dr. Edward Omane Boamah at his office in Accra.
She said StarTimes, the company contracted to undertake the migration, is a reputable technology firm in China and would not fail Ghana.
Dr. Omane Boamah had expressed concerns about delays in getting funding from the Exim Bank to enable StarTimes to complete the migration process.
He said it had been decided that a different funding arrangement be sought if in the next few weeks StarTimes is not able to raise the money for the project from the China Exim Bank.
But Ambassador Baohong said that won't be necessary because she will personally do whatever it takes to ensure that funds are released for the project.
She traced Ghana's historical antecedents, saying "I am so honoured to represent my country here."
She praised the country's contributions to the independence struggle of many African states and the Africa Union agenda, revealing that whenever she visits Ethiopia, she pays tribute to the statue of Ghana's first President, Dr. Kwame Nkrumah erected at the AU Headquarters in Addis Ababa.
"It is so exciting to come to the home town of Pan-Afrricanism and to work with the people here," she stressed.
Ambassador Baohong made reference to what she said is the strong historical ties and cooperation between Ghana and China, stating that trade volumes between the two countries reached a peak of five billion US dollars for two consecutive years "so we are now the biggest trading partner of Ghana."
She said China had given Ghana "sincere aid especially in the areas of energy infrastructure projects and telecommunications…and we are very keen to expand our cooperation in" areas such as media content and IT.
She officially invited Dr. Omane Boamah to the Second China-Africa Forum on Media later in June this year.
The Communications Minister assured Ambassador Baohong of government's commitment to foster further cooperation with China guided by mutual respect.
He commended Chinese companies doing a good job in Ghana and expressed the hope that the two countries can acolloborate more.