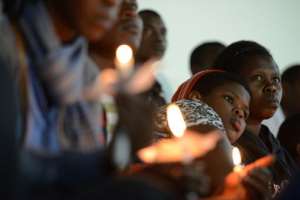 United Nations (United States) (AFP) - Rwanda on Wednesday warned not enough was being done to prevent future mass atrocities as the United Nations passed a resolution pledging to heed the lessons from the country's 1994 genocide.
The UN Security Council adopted a resolution solemnly calling on states "to recommit to prevent and fight against genocide and other serious crimes against international law."
The resolution "underscores the importance of taking into account lessons learned from the 1994 Genocide against the Tutsi in Rwanda," a summary said.
The resolution also called on Secretary General Ban Ki-moon to "ensure greater collaboration between existing early warning mechanisms for genocide prevention and other serious international crimes."
While broadly welcoming the resolution, Rwanda's UN ambassador Eugene-Richard Gasana questioned whether enough was being done, citing examples of recent conflict in Syria, Central African Republic and South Sudan.
"The horrific things coming from the CAR, Syria, South Sudan will in some cases convince many that the UN is still grappling to match its normative principles with realities on the ground," Gasana said.
"Preventing mass atrocities has a long way to go... Since 1994 the UN has deployed efforts and tried to learn from failures of the recent past," he said. "The question is whether this capacity is adequate."
Gasana said mechanisms, such as the International Criminal Court, for tackling war crimes have been "prone to political manipulation," while other initiatives were "ill-equipped and without sufficient capacities."
Advertisement
"As a result, some of these efforts may not amount to much, and the pledges of 'never again' will sound just as hollow today as they were after the genocide," Gasana said.
Gasana said the UN in future should not only be quicker to deploy peacekeepers, but also do more to "address the root causes of conflicts: improving democratic governance, reducing poverty and inequality, ensuring national reconciliation."
Colin Keating -- New Zealand's former UN ambassador and president of the Security Council in April 1994 as the horrors of the genocide unfolded -- apologized for the failure to do more to protect the massacred civilians.
"I had the dreadful responsibility in April 1994 of presiding over a Council which refused to recognize that genocide was being perpetrated against the Tutsi in Rwanda, and failed in its responsibilities to reinforce the United Nations peacekeeping mission in Rwanda to protect as many innocent civilians as possible," Keating said.
"This briefing also provides a fitting opportunity for me in my capacity as former president of the Council, to apologize for what we failed to do in 1994."
At least 800,000 people, mostly Tutsis and some moderate Hutus, died in a viciously executed three-month genocide which began on April 6, 1994, shortly after Hutu president Juvenal Habyarimana was killed when his plane was shot down over Kigali.