Used Fridges Impounded At Tema Port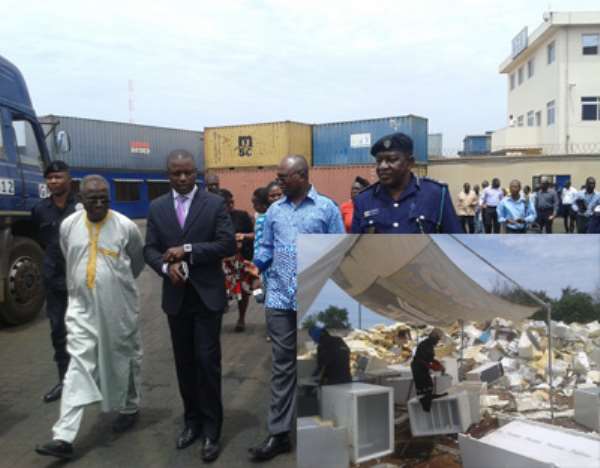 Minister of Environment- Joe Oteng(1st left) and deputy minister for Energy- John Abdulai Jinapor(2nd left) visiting the Tema Port. INSET: The seized used fridges being dismantled.
The Energy Commission has impounded over 5, 000 used refrigerators in 45 containers at the Tema Port.
The confiscated fridges, which include over 1,500 fridges belonging to Environcom Limited, a UK company, have been transported from the Tema Port to the Commission's facility at Afienya in Accra, where they would be dismantled.
John Abdulai Jinapor, Deputy Minister for Energy and Petroleum, who briefed the media during an inspection of the used refrigerators at the Tema Port, said government was determined to ensure the implementation of the ban on used fridges in the country.
According to him, the enforcement of the law was necessary because second-hand refrigerators account for 60 percent of domestic consumption, stating that these refrigerators also contain some chemicals which are very harmful to human health.
The ban on the importation of used fridges and other electronic gadgets is part of a grand energy conservation measure, which the Energy Commission is undertaking per a Legislative Instrument that came into force in January 2013.
Abdulai Jinapor said, 'We have given the importers enough time, and it is time the law is enforced. Recalcitrant importers who violate the law will be punished accordingly.
'We are working closely with the stakeholder agency to ensure effective implementation of the Law.'
Abdulai Jinapor said government would continue the rebate scheme to encourage consumers to hand over their used fridges for new ones at discounts until each household gets new refrigerator.
He urged Ghanaians to cooperate with government and the Commission to save energy in the country.
Dr Joe Oteng-Adjei, Minister for Environment, Science, Technology and Innovation, said the used fridges also have environmental impact.
He said the importers declared the goods in the containers as their personal items.
'However upon proper checks we realized that the containers contain plenty of used refrigerators,' Oteng-Adjei said.
He called on the media and other stakeholders to support the government's campaign to tackle e-waste.
By Cephas Larbi