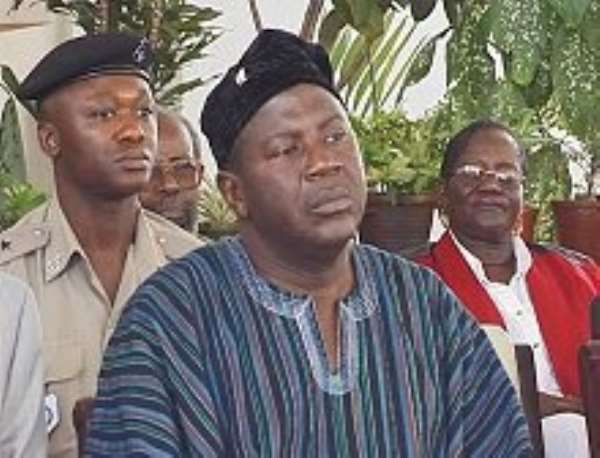 Jimli (N/R) April 19, GNA - Vice President Aliu Mahama on Monday started his four-day working visit to the Northern region with a call on the chiefs and people to end conflicts in their areas to pave way for development.
Addressing separate durbars at Jimli and Sang in the Yendi District, Vice President Mahama told the people that the government and many non-governmental organizations (NGOs) were willing to assist them to reduce drastically the poverty levels in their areas.
He, however, said no meaningful development could take place in an atmosphere of conflicts adding " your common enemy is poverty therefore you must unite and mobilize to confront it".
Vice President Mahama said political activities should not result in hatred, conflict and division but it should be a weapon for enhancing the standard of living of the people.
He asked the people to give priority to education, especially that of their daughters to facilitate their advancement and to enable them to contribute to the development of their communities.
Vice President Aliu Mahama also addressed a dubar of chiefs and people at kpalbe in the East Gonja District where he announced that they would have their fair share of 1000 tractors, which the government has imported for the modernization of agriculture.
Alhaji Mahama assured the people that their request for the provision of electricity, potable water, qualified teachers and other facilities would be considered.
He commissioned a nurses quarters constructed at Sang at the cost of 83.9million cedis with HIPC funds.
The Vice President also inspected progress of work on the Tamale-Yendi road and urged the contractors to complete it on scheduled and to ensure good quality work.
Twenty kilometres of the road which involve tarring at the cost of 29.7 billion cedis is almost complete whilst Taysec has completed 59 per cent of the 23 kilometer of roads given to it at a cost 24 .9 billion cedis.
Mr Emmanuel Preko, the Northern Regional Director of the Ghana Highway Authority, commended the contractors for work so far done. The Vice President is also schedule to visit kpandai, Kpolo, loloto, Salaga kpanvo Damango Sawla.
He would interact with the people to find out their concerns about governance and commission a number of development projects.
Mr kwadwo Baah Wiredu, Minister of Education, Youth and Sports, Dr kwaku Afriyie, Minister of Health, Alhaji Alima Mahama, Deputy Minister of Trade Industry and Presidents Special Initiatives, Alhaji Mustapha Ali Idris, Deputy Minister of Works and Housing, Mr Boniface Abubakar Sadique, Deputy Minister of Tourism and the Modernization of the Capital City and other dignitaries were accompanying the Vice President on his visit.