NADMO Holds Simulation Exercise At Guinness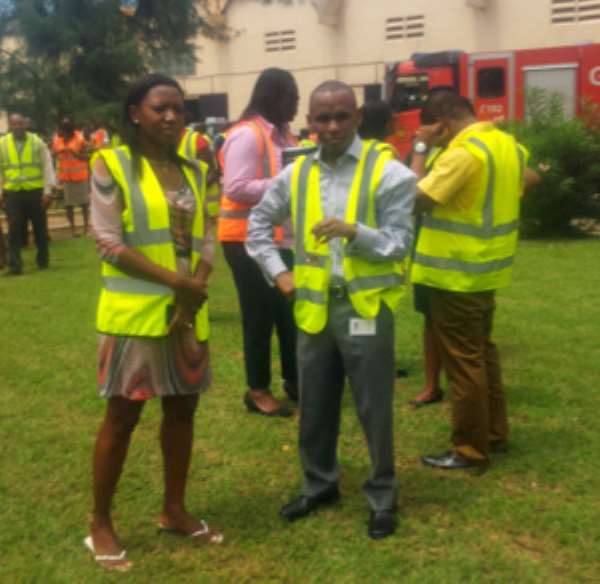 Mr. Peter Ndegwa-MD and Preba Greenstreet, CR Director responded to the Alarm
The National Disaster Management Organisation (NADMO) on Tuesday led an emergency response simulation exercise at the Achimota site of Guinness Ghana Breweries Ltd (GGBL) aimed at testing the disaster and emergency response of the company.
The 30-minute simulation exercise involved officials from NADMO, the Ghana National Fire Service, the Ghana Police Service and the National Ambulance Service and is part of GGBL's Zero Harm safety agenda to test its preparedness to deal with emergencies.
At exactly 10:15am, the fire alarms in the brewery went off triggering a chain of events involving the management, employees and the disaster management organizations response to the staged crisis.
Speaking to the media after the exercise, Koranteng Abrokwa, NADMO National Director of Training, who led the exercise, said 'Today we tested the emergency and disaster preparedness of Guinness Ghana Breweries and I am happy to say that this company is one of the few that has a thorough response plan in place to handle emergencies.'
He stated that the results and response time from the simulation show that GGBL  is conscious of the safety of its employees, clientele, neighbours and the general public and this speaks broadly to the total quality assurance of Guinness Ghana.
Preba Greenstreet, Corporate Relations Director, GGBL said, 'We are happy this exercise was successful as it enabled us to test our safety and security system to ensure we can respond appropriately to emergencies. At GGBL, safety is our number one priority and through our Zero Harm agenda, we are committed to ensuring that all our employees go home safe every day.'
A business desk report