Drug carriers expel pellets on flight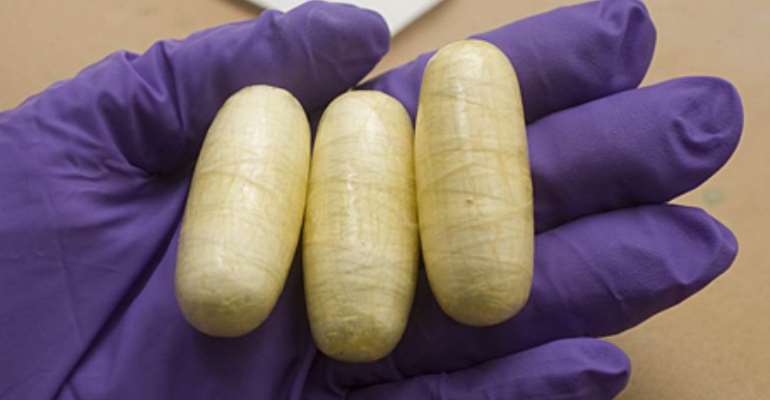 Three drug carriers who could not withstand the pain of having drugs concealed in their tummies for a long period had no option but to expel some on the flight before their arrival at the Kotoka International Airport (KIA).
The three men, a Ghanaian and two Nigerians, were arrested on arrival, as they were given away by the drugs they had expelled.
One had hidden the pellets of heroin he had expelled in his footwear, while the other two had stashed them in a pair of socks and luggage, respectively.
The three suspects, Kojo Asamoah Caesar, a 54-year-old Ghanaian, Jerry Ebulca Onyia, 39, and Affis Abdulai, aka Estevao Correia, 45 both Nigerians, were arrested in separate operations on April 9,2014.
The arrest
According to the Deputy Executive Secretary of the Narcotic Control Board (NACOB), Nii Lante Blankson, the suspects were made to expel the remaining pellets after their arrest.
He said they all claimed their flights had been delayed and due to that they felt so uncomfortable with the drugs in their stomach.
They, therefore, had no alternative but to expel some of the drugs in order to save their lives.
Nii Blankson said Onyia, who  arrived on a Kenyan Airways flight but routed through Pakistan and Dubai, was arrested as he was going through arrival formalities because he could not stand still as his shoes were too tight.
 
Drugs in shoes
He was pulled aside and asked to  Kojo Asamoah-Caesar  remove the shoes and 15 expelled pellets of heroin were found in them. He later expelled 90 more, bringing the total number of pellets he swallowed to 105.
Nii Blankson said upon interrogation, the suspect claimed he was contracted by one Michael, a Nigerian resident in Pakistan, to deliver the drugs to an unknown person in Ghana for a fee.
He said Caesar arrived from Istanbul on a Turkish Airline flight and was pulled aside for routine checks. He said although a urine test conducted on him proved negative, a search in his hand luggage revealed 95 pellets of heroin.
Expelled on flight
Caesar told NACOB officials that he swallowed the substance in Turkey but on the flight he could no longer bear the pain as he felt so uncomfortable with the substance in the stomach.
He had to visit the lavatory a number of times till all the 95 pellets had been expelled and he managed to hide them in his travelling bag.
He said he was promised $6,000 for safe delivery and he had to do it because of financial constraints.
Drugs in socks
The third suspect, Abdulai, was carrying a Guinea Bissau passport bearing the name Estevao Corela and travelled from Pakistan to Dubai and Kenya before arriving in the country.
Nii Blankson said while on the flight, the suspect said he felt uncomfortable and had to expel some of the drug mid-air and concealed the pellets in his socks.