Supporters of Egypt candidate jostle for campaign space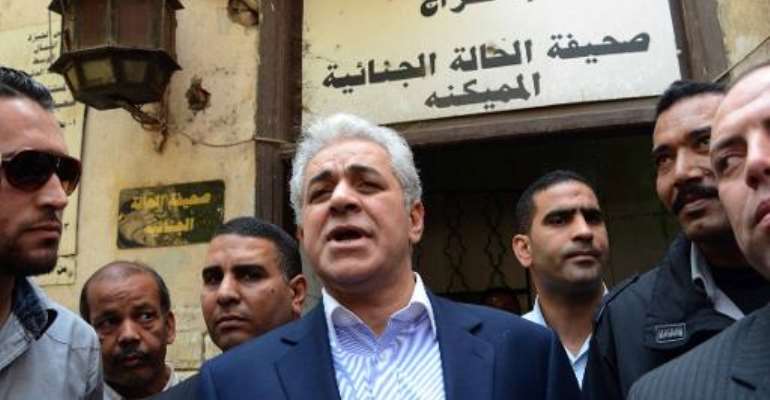 Cairo (AFP) - Supporters of Egyptian presidential hopeful Hamdeen Sabbahi are caught in a turf war as they jostle for campaign space in a vote expected to be swept by ex-army chief Abdel Fattah al-Sisi.
The leftist leader, a longtime opposition figure, was third in the 2012 presidential election won by Islamist Mohamed Morsi, who was ousted by Sisi last July.
Sabbahi's followers recently arrived at a Cairo roundabout for a rally, only to find it occupied by supporters of Sisi, frontrunner in the May 26-27 election.
The standoff at the busy intersection in Cairo's working class neighbourhood of Shubra highlights the limited space available for Sabbahi's campaigners, with almost every street, corner or square in the capital flooded with Sisi posters and banners.
Sabbahi's camp had to abandon the site and stage their rally some distance away as Sisi's followers had already erected banners and set up loudspeakers.
Police intervened to prevent scuffles after heated arguments broke out between the two groups, an AFP correspondent witnessed.
Sabbahi's campaign team complain of repeated harassment by Sisi's supporters as their volunteers fan out to collect the 25,000 signatures needed to register their candidate's bid.
Despite the obstacles, Sabbahi supporters are adamant that their candidate can drub Field Marshal Sisi at the polls.
Their campaign, they say, is a warning that political forces who spearheaded the 2011 uprising against Hosni Mubarak are still active and will prevent Egypt returning to an era of one-man rule.
- 'A defeat of democracy' -
Sabbahi is the only serious candidate standing against Sisi, who has become a nationalistic icon few dare to criticise.
The leftist's bid for the presidency is aimed at resisting "the transformation of the democratic exercise into a kind of an allegiance (to one man) or a referendum", his campaign spokesman Maasoum Marzouk told AFP.
Such a scenario, he added, would mean "a defeat of democracy".
"We can't go back to what existed before January 25 (2011), we can't accept allegiance to one person", Marzouk said, adding that giving so much power to one individual "naturally and necessarily leads to a kind of authoritarian rule".
Although official campaigning starts only on May 3, Sabbahi's team has been organising near-daily rallies in cities and villages to present his programme in a bid to counter the overwhelming support for Sisi projected by state and private media.
As part of their unofficial campaigning, Sabbahi's supporters are forming human chains in Cairo neighbourhoods like Shubra and in upscale districts such as Heliopolis.
The chains are formed by mainly young supporters, the backbone of his campaign, who carry posters of a smiling Sabbahi and proclaim him to be the only candidate capable of achieving the goals of freedom and democracy that drove the 2011 uprising against Mubarak.
Many say they see in Sabbahi a leader who will adopt policies to achieve social justice, similar to those implemented by Gamal Abdel Nasser, Egypt's first modern military ruler who toppled the monarchy and fought Western imperialism in the Arab world.
"He is the candidate who will give poor their rights," said Mahmoud Alaa, a 21-year-old student, standing in front of the deserted Baron Empain palace in Heliopolis, a landmark building resembling a Hindu temple.
"Hamdeen will not take us back to the police state of Mubarak's regime ... he is a freedom fighter who was jailed 17 times", he added, referring to Sabbahi's jailing under Mubarak and his predecessor Anwar Sadat.
Critics of Sisi say that should he win the election as is widely expected, Egypt would see a return to autocratic rule.
Their fears have been fuelled by the jailing by the interim authorities of several activists of the 2011 revolt for organising unauthorised protests and a police crackdown on Morsi supporters in which more than 1,400 people have died.
Sisi has repeatedly dismissed these fears, but students such as 22-year-old Omar Tarek are unconvinced.
"If Sisi wins, we can only look for another country" to live in, said Tarek.