Stop giving 'free money' to unemployed youth - Ras Mubarak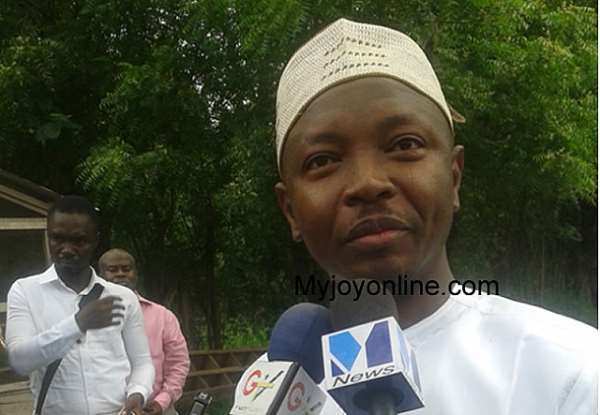 Acting Chief Executive of the National Youth Authority (NYA), Ras Mubarak has implored politicians to institute creative means of creating sustainable jobs for the youth instead of "dishing money freely" to them.
According to him, the temptation of spending such monies without stinting is high among the youth, and he wants the society to discourage the practice.
"That is unsustainable. We [NYA] believe whatever we do would have to be sustainable, it would have to be in the interest of the young people [and] it would have to be in the interest of the country", Mr. Mubarak stated.
The Chief Executive was addressing journalists at the Youth Leadership and Kills Training Institute at Afienya in Greater Accra, where he toured the Free Range Poultry project. The project is a partnership between the NYA and Tycriss Livestock Farms based in Accra.
Over 10,000 day old chicks are currently being raised by Tycriss Farms over a period of six weeks after which the birds would be distributed to some 1,000 youth who have been trained in  raising them for another six weeks when they would be ready for consumption. The beneficiaries, drawn from the 10 regions, have received intensive tutorials in housing management, disease and pest control and marketing of the birds.
               
Mr. Mubarak commended his predecessor, Ms Sedina Tamakloe-Ationu under whose administration the initiative was introduced to equip the youth with entrepreneurial skills and also meet the increasing annual poultry supply deficit.
"If the younger people are not in school or are not working, the consequences that come unto themselves and the nation are enormous because, if they are not working they don't pay taxes and if they are not paying taxes it is the country that loses," he said.
He urged District Assemblies and Parliamentarians to support the project to help create jobs in the communities they represent to reduce the unemployment rate in the country.
"If the Assemblies and the MPs (Members of Parliament) also get involved [in the Free Range Poultry project] all these young people - who are on them to support them to get jobs- we could actually help them by providing these facilities to help them get onto their feet instead of [politicians] always dishing out money to them".
          
Farm in a barrel
In a related development, Tycriss Farms has also introduced the Farm in a Barrel model, which enables beneficiaries to keep a sizeable number of birds in a movable steel fence-in for a number of days.
Farm in a Barrel is a low-tech, high-impact farming system that contains all the necessary equipment to start a small farm in one area of focus. Each system comes with everything needed to begin production and is shipped in a 55 gallon recycled plastic barrel which is then integrated as part of the farming system during production.
This system also enables the birds to feed on fresh weed to supplement their feed to keep them healthy.
              
Chief Executive Officer of Tycriss Livestock Farms, Nicholas Atitsoe said efforts are being made to use local raw materials to build the cage and sell it to farmers at affordable prices.              
Demonstrating how the Farm in a Barrel technique is deployed, Director of Agriculture at the NYA, Mr Dzorkplenu Ede Zico said 30 birds can be kept in the facility at a time to ensure effective monitoring.
He called on all trainees to come and place orders for their birds. He said any youth interested in the project can also contact the offices of the NYA at Kaneshie and Afienya, for registration and training.