Tunisia MPs slam 'light' verdicts for Ben Ali officials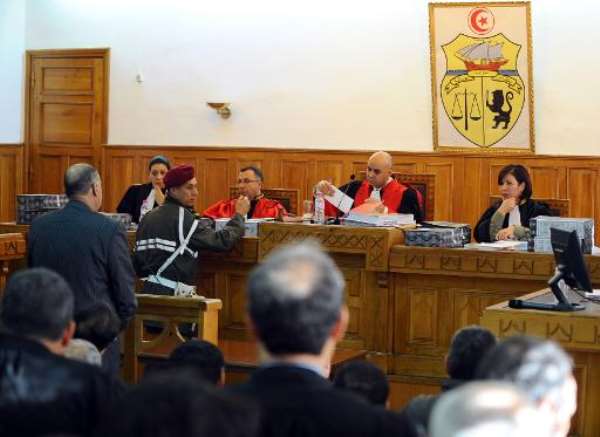 Tunisian former director general of the intervention brigade, Jalel Boudriga (L), answers questions in front of magistrates at a military court on January 3, 2012 in Tunis. By Fethi Belaid (AFP/File)
Tunis (AFP) - Tunisian lawmakers on Monday condemned as excessively lenient appeal sentences handed to top security officials in Zine El Abidine Ben Ali's ousted regime for their part in repressing protests during the 2011 uprising.
The military court in Tunis ruled on Saturday in several appeals trials of officials implicated in the bloody crackdown on protesters that left more than 300 people dead in Tunis and Sfax during the revolt that ousted Ben Ali and ignited the Arab Spring.
The former head of presidential security, Ali Seriati, was given a three-year prison sentence, as was Rafik Belhaj Kacem, the interior minister at the time.
Former chief of Tunisia's special brigades, Jalel Boudriga, originally jailed for 10 years for pre-meditated murder, also saw his sentence reduced to three years, after the allegations against him were re-defined as non-assistance to people in danger.
As the accused have been detained since the revolution, they could walk free in the coming weeks.
"These light verdicts come as a major shock not just for the families of those martyred and wounded in the revolution, but also for elected members of the assembly and the Tunisian people," lawmaker Mouldi Riahi, with the centre-left party Ettakatol, told parliament.
Several MPs are demanding that the cases be retried in a civilian court.
The International Federation for Human Rights also criticised the verdicts pronounced by the military tribunal for "violating international standards for protecting human rights including by disregarding the criminal chain of responsibility and the right to a fair trial."
The military prosecutor defended the judges, calling on all parties "to refrain from attacking the military courts and to not use the verdicts to put in doubt the integrity of the military justice system."
Since the 2011 uprising, which ended a decades-old dictatorship and inspired a wave of revolts across the region, Tunisia's new rulers have yet to implement any significant reforms of the judiciary and security services, on whom Ben Ali relied to suppress dissent.
A "transitional" justice system to identify and bring to trial those responsible for abuses committed under the Ben Ali regime has also yet to be implemented, largely due to political bickering between the Islamists with the majority Ennahda party and their opponents.