Tony Elumelu Pitches Job Creation And Access To Electricity To The United Nations, As The Next Set Of MDG Priorities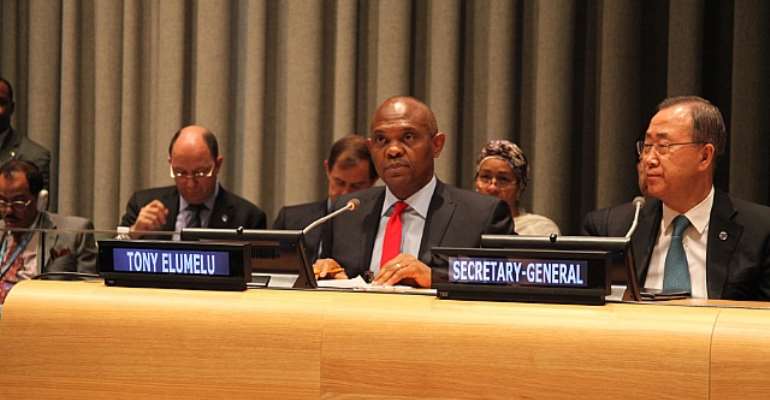 Chairman of Heirs Holdings and Founder of the Tony Elumelu Foundation, Tony Elumelu, addressed Secretary-General Ban Ki Moon, the UN General Assembly and the Economic and Social Council (ECOSOC) on "The Role of Partnerships in the Implementation of the Post-2015 Development Agenda" on April 9, 2014.
Representing the African private sector, Mr. Elumelu gave the keynote address and outlined his views on the role of the private sector in the Post 2015 Development Agenda.
The event was also attended by the President of the UN General Assembly, H.E. Mr. John W. Ashe and H.E. Martin Sajdik, the President of ECOSOC, as well as all 193 representatives to the UN General Assembly.
In his address, Mr. Elumelu urged the UN to prioritize job creation and improved access to electricity in the Post- 2015 Development Agenda, emphasizing the critical importance of these areas to battling global poverty.
He also asserted that the 2030 development goals cannot be fully achieved without the full engagement and participation of private sector, particularly given the constraints on official development assistance in the current fiscal climate saying, "A global agenda that intends to address the livelihoods of people and attack extreme poverty is not set up for success if it does not fully engage the sector of society that controls the most capital, employs the most people, and fosters the most innovation."
Mr. Elumelu further recommended that businesses adopt the principles of Africapitalism, arguing that "the intent to create and multiply value in the societies in which we source, supply and operate, must be built into our corporate governance, our operations, our project development and our profit calculation across the value chain."
You can read the full text of his remark here.
View the video here.
http://www.tonyelumelu.com/tony-elumelu-addresses-the-un-general-assembly