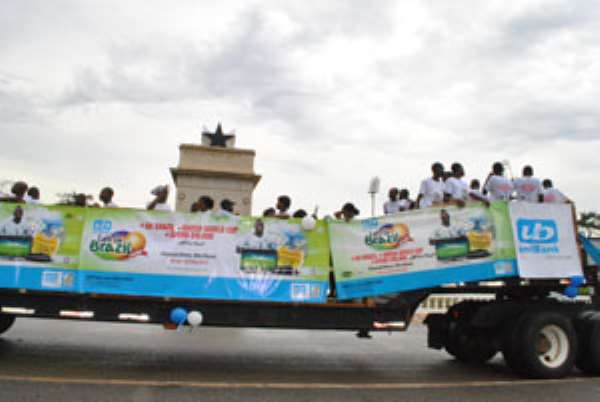 A business desk report
uniBank on Thursday organized a float in Accra to sensitize customers and the general public on its on-going deposit mobilization promotion dubbed, ''Let's Go Brazil.'
With over 200 participants on promo articulated trucks and uniBank corporate cars amidst brass band and blazing music, the float started from the bank's Head Office Annex at Kokomlemle, with ace  radio presenter, Seth Kwame Dzokoto (Edzibanaa fame) leading the charge.
Owusu-Ansah Awere, Executive Director of Technology at uniBank, stated that 'the float is meant to create awareness about the promotion, attract maximum customer participation and generally create excitement in the promotion.'
He also indicated that as the official bank of the Black Stars, it behovees uniBank to offer every form of support to the national team, noting that 'the promotion is another platform to galvanize support for the Black Stars in their pursuit of glory at the FIFA World Cup in Brazil.'
He therefore urged customers to continuously trust uniBank with their financial dealings and also patronize the range of deposits and savings products tailor-made to meet their varied needs.
Isaac Palomeras, Chairman of the 'Let's Go Brazil' Promo Committee, thanked loyal customers for their patronage and urged all prospective customers to patronize the promo to taste the 'caring nature' of the bank.
'This is to show our appreciation to loyal customers and stakeholders, who have stayed with us and patronized our quality products and services, and more importantly to give our customers and football-loving fans the unique opportunity to go to Brazil and support the Black Stars during the upcoming FIFA World Cup.'
A business desk report