Shai Chief Beats War Drum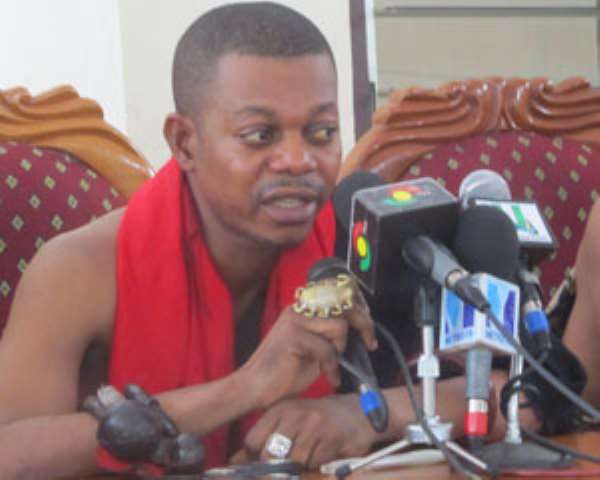 Nene Agyemang Kukrubour IV speaking at the press conference
NENE AGYEMANG Okukrubour IV has together with the people of the Shai Traditional Area in the Shai-Osudoku District of the Greater Accra Region, threatened to take power into his own hands and fight for what he thinks is right for him and his people.
According to Nene Okrukubour IV, if the security agencies did not immediately intervene in a case involving a parcel of land meant for the construction of a training school at Ayikuma for the Ghana National Fire Service (GNFS), he and his people would be compelled 'to repeat the Katamanso war of 1826.'
He noted, 'For several times Ningos have been stepping on our toes but as law-abiding citizens, we said we would not react but to report to the appropriate authorities, hoping that action would be taken, but till date the Ningos continue to step on our toes and I think we now want to show the butterfly how far it can fly.'
The traditional ruler warned that 'if the Ningos continue to disturb the Shai people, nobody should blame us since we will repeat what happened at the Katamanso War of 1826, which ended at the Dodowa Forest.'
Recently, the Saunya family of the Ningo Traditional Area addressed a press conference threatening to attack the Shais if they did not stop encroaching on over 264.5 acres of land situated at Ayikuma – part of which was leased to government to build Staff College for the GNFS.
An allegation implicated the District Chief Executive (DCE) of Shai-Osudoku, Mr. Emmanuel Anyimi Lartey, of playing a pivotal role in the leasing of the land to the GNFS.
Nene Okrukubour IV, speaking on behalf of the Shai Traditional Council and the people of the area during a press conference at Dodowa, stated that they were not aware that Ningos had a piece of land within the Shai State as a stool land.
According to him, 'We are also not cowards but because we are law-abiding people, we decided not to react to some of the useless things they have been saying; and we are ready to fight them.'
He called on government and the security agencies to quickly step in to prevent what he described as possible 'tribal war' between the Shais and the Ningos.
He rubbished allegation against the DCE regarding the letting out of land to the GNFS simply because he hails from the Shai Traditional Area, noting that 'it's two families who leased the land to the GNFS since 2006 when Mr. Lartey was then not even in office; but a certain Michael Nortey who hails from Ningo, who was then the DCE of former Dangme West District Assembly.'
He noted that implicating the DCE was uncalled for and it must seize immediately since he was innocent about the land issues in the Shai Traditional Area.
According to him, 'It's true that in 1994 something happened between the Shais and the Ningos at Ayikuma 'and we defended ourselves nicely and the T.M. Addo's Committee was set up to probe the matter but we are yet to see the report from the committee and no White Paper has been issued on the it.'
 From Vincent Kubi, Dodowa