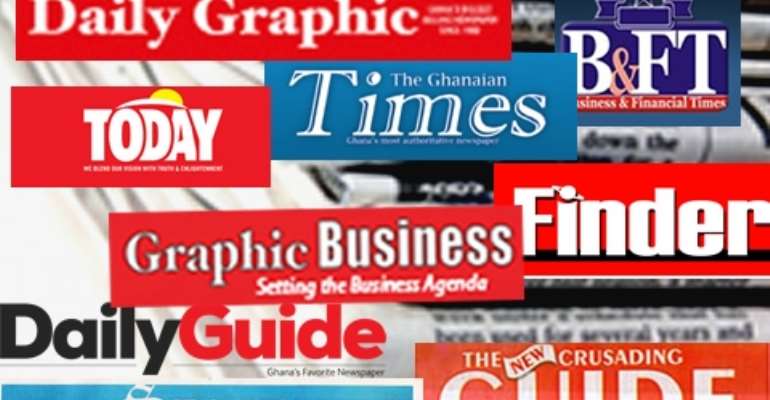 Monday April 14, 2014: Front page stories of some major newspapers in Ghana.
POWER: ARE WE GETTING IT RIGHT?
Ghana's ongoing and growing power crisis is not only about the short-term power cuts or 'dumsor dumsor'for domestic consumers, but more importantly it is crippling industrial output and investor confidence.
HIKE IN KUMASI PROPERTY RATES SCARES BUSINESSES
Confidence among businesses in the Ashanti regional capital of Kumasi has faltered following recent hikes in the business operating permit.
AIRLINES REAP FROM NPP CONGRESS
Domestic carriers last weekend optimised their fleet and improved revenue by increasing their flight frequency to the northern regional capital Tamale.
MORE GHANAIANS STEAL ELECTRICITY; 9,537 ILLEGAL CONNECTIONS DETECTED
Organised and widespread theft of electricity continues to be a longstanding problem crippling the efforts of the Electricity Company of Ghana despite the success of its pre-payment metering system.
CONFUSION OVER MINIMUM WAGE
Negotiations on the national daily minimum wage have ended abruptly without any concrete decision as labour rejected employers' offer of 2.5 per cent.
JAKE DUMPED; AFOKO TAKES OVER
After going through an obviously crucial election, National Chairman-elect of the New Patriotic Party (NPP), Mr Paul Afoko, has asked the rand and file of the party to prepare for victory in the 2016 general elections.
OKYENHENE JABS MAHAMA
Osagyefuo Amoatia Ofori-Panin I, the Okyenhene, has replied President John Mahama regarding the latter's recent utterance during a two-day duty tour of the Eastern Region that "Kyebi is the headquarters of 'galamsey in Ghana", charging the President to rather tag the region as the headquarters of bad roads.
PAY BACK TIME FOR JAKE AND CO
The voting out of all incumbent National Executives of the New Patriotic Party (NPP), except Otiko Djaba, in last Saturday's National Delegates' Conference can be likened to the Biblical text in Galatians 6:7, which reads; "Be not deceived; God is not mocked; for whatever a man soweth, that shall he also read".