Recriminations as Algeria's presidential campaign ends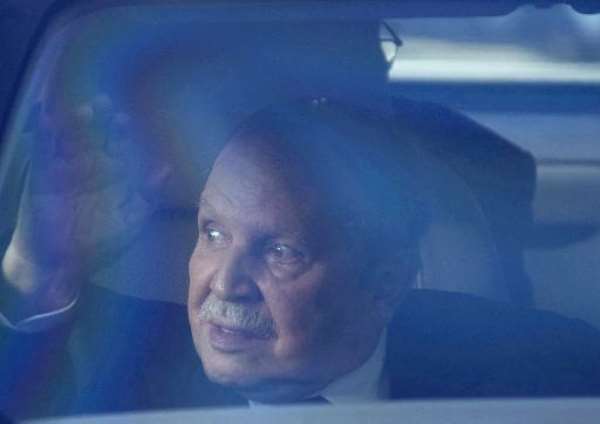 Picture taken on March 3, 2014 in Algiers shows Algerian President Abdelaziz Bouteflika waving from inside a vehicle as he makes a rare appearance to drop off papers for his reelection. By (AFP/File)
Algiers (AFP) - Campaigning for Thursday's presidential election in Algeria ends Sunday after incumbent Abdelaziz Bouteflika accused his only real rival of inciting violence and Ali Benflis warned about polling day fraud.
The 77-year-old Bouteflika, despite ailing health and not even appearing in person on the campaign trail, remains favourite to win a fourth term in the April 17 vote in the North African nation.
Presidential aides wound up the campaign on his behalf in Cherage southwest of the capital, where they praised the "miracle" of Bouteflika taking Algeria "from darkness into light".
The 69-year-old Benflis was to hold his last election rally later Sunday at Rouiba in the east.
Late on Saturday, Bouteflika made a rare television appearance -- only his second since campaigning began -- to accuse the man who was once his prime minister of fomenting violence.
He accused him of "terrorism via the television", in reference to warnings the former premier made against electoral fraud.
"When a candidate threatens walis (governors) and the authorities to beware for our families and children in case of (election) fraud, what does that mean?" Bouteflika asked.
Benflis had said in televised remarks on Wednesday that "fraud is 'haram'," or forbidden.
"Fraud and usage of fraud is haram. I am speaking to (governors): you have family, think about protecting them," Benflis had said.
He is seeking to reverse Bouteflika's fortunes following 10 years in the political wilderness, after running against and losing heavily to his former ally in the 2004 election.
On Thursday in the eastern city of Bejaia, Benflis predicted a "violent earthquake that will shake the foundations of those who support a president for life".
Benflis has repeatedly called electoral fraud his "main adversary", saying it defeated democracy in the 2004 vote.
- Fraud 'an incurable disease' -
Allegations of fraud have marred most electoral contests in Algeria, and a former governor has admitted involvement in rigging votes in the past at the behest of his superiors.
Sunday's daily El Watan newspaper railed against what it called "an incurable disease".
"The startling revelations on Chourouk TV by the former wali of Oran, Bachir Frik, have shocked democratic opinion," it said.
"The phenomenon is so widespread that henceforth it could almost be said that the Fraud Party is the country's largest," El Watan added.
Before Bouteflika made his accusation against Benflis on Saturday, the president's campaign team also accused him of inciting violence.
"We note the continuing violent behaviour by parties hostile to the serene and transparent conduct of the presidential election, and denounce the perpetrators of this violence -- representatives of Benflis," it said.
Benflis responded by calling the Bouteflika campaign's statement "incredibly violent" and "extremely serious", and said it contained "defamatory... unfounded accusations".
Bouteflika is still recuperating after suffering a mini-stroke last year and spending nearly three months in a French hospital.
But despite his low public profile of late he remains popular with many Algerians, especially for helping to end the devastating civil war in the 1990s.
His supporters also praise him for containing the social unrest that spread to Algeria in January 2011 as mass protests gripped neighbouring Tunisia, by offering political reforms, lifting a 19-year state of emergency and raising wages.
However, experts say discontent remains a real threat amid high youth unemployment and poor living conditions for many, despite Algeria's windfall hydrocarbon revenues.
Some 23 million people are eligible to vote on Thursday, choosing between six candidates.