Development Website For Volta Region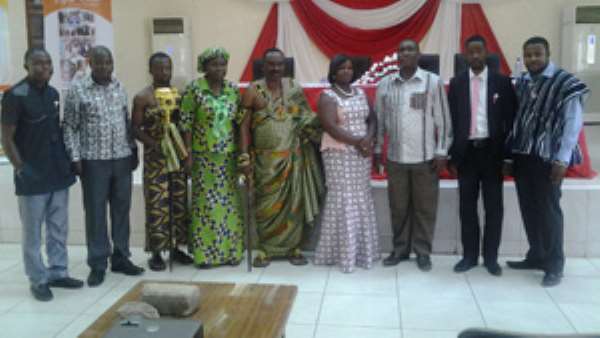 Dignitories at the launch including Togbega Gabusu in the Middle
In a bid to promote the development agenda of the Volta Region, Wake Up Ghana Consults, a multimedia consortium based in Ho, the regional capital, has launched a website – Wake Up Network Solutions - for the region.
The launch, which was done by the Deputy Volta Regional Minister, Francis Ganyaglo in a brief ceremony, was under the theme: 'Volta Region; Paving the Way for Change and Unity to Foster Development.' It was also chaired by Togbega Gabusu VI, the Paramount Chief of Gbi Traditional Area.
The Chief Executive Officer (CEO) of Wake Ghana Consults, King David Suitor said, 'The Wake Up Network Solutions website woulg ensure that the region's development was not left in the back burner… it will provide independent analysis, informed debate and influential ideas on how to build a prosperous and secure region for all.'
Togbega Gabusu VI, who lauded the innovation, was hopeful that the website would afford the youth the platform to articulate their ideas, problems, among other things, for the betterment of the region. Mrs. Jemima Bedzra, who presented the keynote address on behalf of Dr. Eric Amakpa, said the website was a challenge to the youth in the region to be more innovative in their fields of study.
She urged the youth to spend their time on brainstorming for new ideas and projects rather than engaging in trivialities.  She was hopeful that the website would put the many untapped resources of the region on the global map and attract investors to boost the region's economy. She therefore urged the managers of the website to be competent and prompt in their delivery
Launching the website, Mr. Francis Ganyaglo stressed that development is a continuous and comprehensive process which needs consistent assistance and other developmental policies in achieving targeted goals. He called on all in the region to help fast-track the region's development.
He also called for a close collaboration between government and NGOs, civil society organisations and faith-based organizations. Mr. Ganyoglo appealed, 'Let's put our past behind us and unite as a region…be positive minded to attract more investments into this region.'
He therefore advised the website operators to research adequately and do due diligence before putting items on the website. He urged them to also liaise with Municipal and District Assemblies for adequate grassroots information.
 From Fred Duodu, Ho ( [email protected] mailto:[email protected] )