Tony Aidoo, Victor Smith Sworn In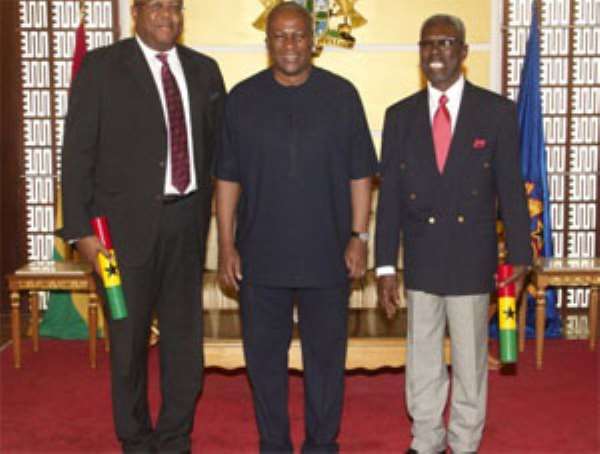 Victor Smith, President Mahama and Tony Aidoo
President John Dramani Mahama, on Friday swore-in two envoys with a call on them to leverage bilateral relations that would attract investors into the country.
He said the days of ambassadors popping champagne and having social pleasures are giving way to negotiations and agreements that could be mutually beneficial.
The envoys, Mr. Tony Aidoo, who has been posted to The Netherlands and Mr Victor Smith, to the United Kingdom, took the oaths of office, allegiance and secrecy.
They are the first batch of 10 High Commissioners and Ambassadors President Mahama appointed early this year to be posted to various countries.
President Mahama urged the two envoys to use their positions to foster unity and opportunities that would improve the economic fortunes of Ghana.
He said the United Kingdom for instance, has historical ties and a number of private sector investments in Ghana and appealed to Mr Smith to work to smoothen the existing relations.
President Mahama expressed the hope that Aidoo would use his experience in monitoring and evaluating the areas of cooperation between Ghana and The Netherlands.
Mr. Aidoo, on behalf of his colleague, thanked President Mahama for the confidence reposed in them and pledged to promote good values of the country during their duty tour.
In a related development, Mr. Vladimir Barrin, out-going Russian Ambassador, was at the Flagstaff House to bid farewell to President Mahama after ending his duty tour of Ghana.
President Mahama, who recounted the bilateral relations, said the beginning of this year alone, 60 Ghanaians had been offered scholarships to study in strategic fields in Russia.
He promised to strengthen relations between the two countries in the areas of defence and private sector investment.