Ugandan police drop 'force' in rebranding bid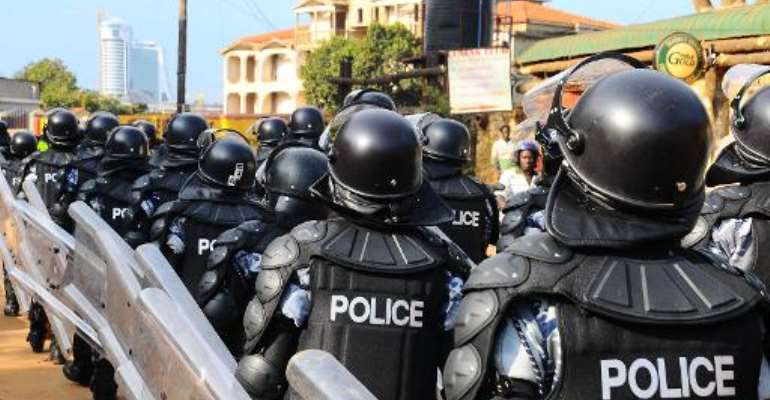 Kampala (AFP) - Uganda's police have decided to rebrand by dropping the word "force" from their name in a bid to shed an image of brutality and corruption, a spokesman said.
"We are changing the name from Uganda Police Force to the Uganda National Police," police spokesman Fred Enanga told AFP, explaining that "we cannot continue calling ourselves a force when we actually work in partnership with the community."
However he said the police decided to stop short of calling themselves a "service", for fear of being seen as going soft.
"There are stakeholders who wanted to call us the 'Uganda Police Service', but we are not a service. We do some enforcement because we have people of different personalities, some break the law and we have to come in," Enanga said.
He insisted the change highlighted that police was not just a state instrument used to quash opposition to veteran President Yoweri Museveni -- leader of the east African nation since 1986 -- and break up demonstrations.
"We don't have problems with the opposition. We have agreed on how their rallies should be conducted, on the venue, giving police advance notice so that we provide them with security," the spokesman said.
Prominent Ugandan human rights activist Livingstone Ssewanyana said the change in name was a good idea, but said police conduct also needed to change.
"The change of name should be followed by actions, one of them the right of people to express themselves," he said.
For the third year running, the Ugandan police this week topped the list of state agencies singled out for torture in the 2013 annual human rights report released by the state-funded Uganda Human Rights Commission.
According to the abstracts of the report released in Kampala on Thursday, human rights complaints registered against the Ugandan police increased by 22 per cent in the past year due to a rise in illegal detentions beyond the mandatory 48 hours, incidents of torture and crackdowns on political activities.