Nana, Kufour Deny Candidates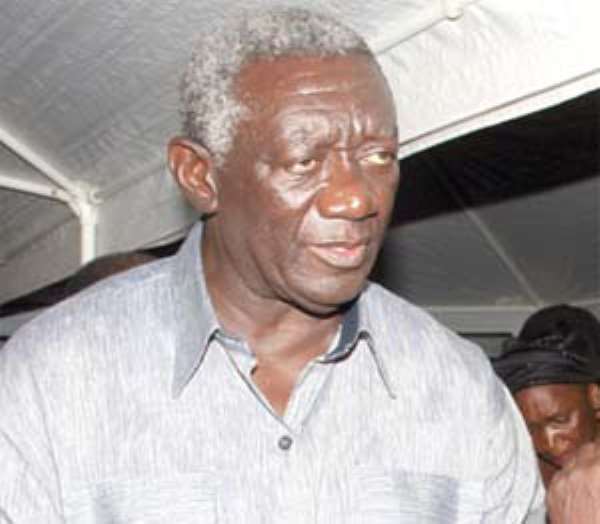 John Agyekum Kufuor
THE OFFICES of ex-President John Agyekum Kufuor and Nana Addo Dankwa Akuffo-Addo, the two-time flagbearer of the opposition New Patriotic Party (NPP), have separately distanced themselves from aspirants vying for the party's national executive positions.
There has been news making the rounds that the two leaders of the party have candidates aligned to them in what has been described as 'factionalism' in the opposition party. But both have been quick to deny having preference for any of the 44 candidates who would be competing in Tamale on Saturday, April 12, 2014.
Earlier this week, the office of former President John Agyekum Kufuor issued a statement signed by his spokesperson, Mr. Frank Nana Wadie Agyekum saying: 'Former President Kufuor has from the onset of campaigning for the elections maintained his neutrality and stated that he will back winners at the elections.'
It said the former President's position had not changed and allegations about he backing some candidates should be ignored.
Earlier, Nana Akufo-Addo's aides had disclosed that he had no preferred candidates among the contestants, and was rather urging for unity and fairness within the rank and file of the party for a total victory in 2016.
To demonstrate his neutrality, Nana Akufo-Addo is said to have ordered that all banners and posters that associated him with some candidates be removed from his residence.
Several aspirants have been accused of using the name of Nana Addo to gain popularity, given the incumbent flagbearer's undisputed popularity in the party.
The incumbent General Secretary of the party, Kwadwo Owusu Afriyie, aka Sir John, has been accused of unduly seeking advantage over his rivals by openly associating his campaign with the personality of Nana Akufo-Addo.
Other candidates are perceived as being aligned to what has been described as the camp of either Nana Akufo-Addo or ex-President Kufour. But the party's leadership has denied the existence of such camps.
Former President Kufuor is currently in the USA for meetings at the United Nations  in New York in his capacity as UN Special Envoy on Climate Change, as well as Washington, where he will engage with the World Bank and chair the biennial High Level Meeting of the Sanitation and Water for All Partnership, of which he is the global chair.
Meanwhile, Nana Addo, who just returned from his six-month 'sabbatical' in the United Kingdom, is said to be closely monitoring developments in the run-up to the party's Congress in Tamale.
By Raphael Ofori-Adeniran