Judgment Debt Commission is using less money chasing more money - Kofi Abotsi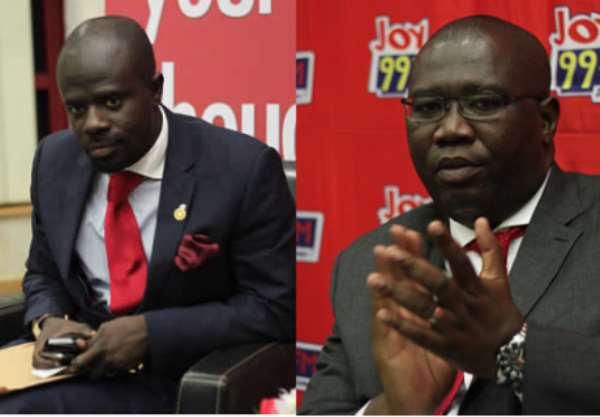 The Dean of GIMPA Law School has defended the setting up of the Judgment Debt Commission in a one-liner, the commission is an attempt to "use less money to chase more money".
Giving a "deeper" view on why the Commission was set up, Kofi Abotsi explained, the commission is an surgical opportunity for "institutional reform" of the Attorney-General's department.
Despite the presence of several state agencies that could investigate the sorry saga of judgment debts, Abotsi believes, not setting up the commission would have exposed a preference for a "business as usual" type of governance.
Mr. Abotsi was speaking for the motion at the maiden Joy FM Debates held at the Ghana-India Kofi Annan Centre of Excellence in ICT last Thursday evening. The debate was moderated by Emile Francis Short, former head of the Commission on Human Rights and Administrative Justice (CHRAJ)
The debate was rated highly by a visibly impressed audience, as providing a buffet of thought-provoking opinions on the motion 'Ghana's Judgment Debt Commission is a waste of public resources'.
The section of the audience - from left, Gifty Afeyie-Dadzie,former member of the Council of State, Dr. Charles Wereko Brobby,former [email protected] boss, Emile Short, former CHRAJ boss and Sedem Ofori of Joy FM
A judgment debt is a legal obligation to pay a debt or damages evidenced by a judgment entered in a court of record and enforceable by execution or other judicial process
The Judgment Debt Commission (JDC) was set up last year, at a time when a series of scandalous judgment debt stories seized nation's attention.
The scandal began in 2011 with investigations into how the state doled out Gh¢ 58 million to Alfred Agbesi Woyome,a businessman affiliated to the governing National Democratic Congress. It has since cost two Attorney-Generals their jobs and opened a pandora's box of what has been described as state-sponsored looting of the state coffers.
Episode after episode running for a whole year, radio stations from Morning Shows to late night political discussions devoted  unprecedented attention on corruption.
In response, President John Mahama acting under Constitutional Instrument (CI) 79 established the JDC in November 2012 to enquire into the payment of judgment debts in the country.
Seven months short of two years, many have questioned the commission's usefulness. This urged Ghana's thought-leader, Joy FM to organise a debate addressed by Lawyer Ernest Kofi Abotsi and Senior attorney at 'Faibille and Faibille', Lawyer Isaac Faibille Jnr.
 
Egbert Faibille's argument - for the motion
Egbert Faibille was quick to add "needless" waste to his motion and told a story to illustrate his point. The setting of the commission, he said, is like a story of a mother who chancing on his son picking up doughnut [or in local parlnace 'bufloat'] from the dirt shouted at him "what are you doing".
Her son, shaken by the force of a looming reprimand, responded " mummy I was just cleaning it, to throw it into the dustbin".
He equated the setting up of the commission to setting up a presidential committee to investigate the causes of malaria - something he said, nobody today would waste time doing.
"The answers are common. They are all around us. It will not take a commissioner to tells us", he said.
He recalled that an Attorney-General in this country went ahead to "tie a [international] deal with CP[ Construction Pioneers] without even a witness; [implying] that all Ghanaians are dead,it is only the A-G is alive so that he or she alone can sign contract to bind the state?"
He wondered what exactly would government want to find out in an example like this, when the straight forward procedure was to take action against the said official.
"What is the Judgment Debt Commission doing that EOCO and the Police CID cannot do?" he said.
He said eventually, Commissions of Inquiry (COI0 become tools used by government to harass political opponents and said with the exception of a Commission set up to investigate Accra's 2001 Stadium disaster and a few others, all Commissions of Inquiry are "hounding" tools.
He cited the Kwame Nkrumah Asset Commission headed by Justice Apaloo, used to degrade a deposed Kwame Nkrumah who could not appear before the commission.
"Even Nkrumah's girlfriends were a subject matter [at the commission]", he said noting the commission's work was "one of the most serious thing that should never happen to anybody"
He recalled Justice Taylor Assets Commission was used against President Busia where his assets were seized. It was returned to his family in 1996 under Rawlings. It was actually President Mahama, then Communications Minister who announced the decision to return the assets without setting up any commission, Egbert went further.
He said as of 1969, it had been decided to do away with COI, because a High Court had said "based on the years of misuse of Commission of Inquiry...no one should be prosecuted with the findings of a commission.
He was curious about Abostsi's claim that the JDC is a "forward -looking" work. He wondered that, if the JDC is not a money-collecting machine, then it is "much ado about nothing".
"You are not going to get a dime at the end of this", he predicted.
 
Abotsi' arguments- Against the motion
The law lecturer said calling the set up of the JDC as a waste of resources was a "simplistic" view.
He said this 'we-all-know-the-reasons" mentality is at best, hazarding guesses and warned if we approach problems with this mindset we would only be implementing "blind reforms"
For the purposes of "bold" and "informed decision-making", the setting up of JDC was the right way to go, he said.
He dismissed as "piecemeal" and reactive", Egbert's suggestion that the Attorney-General should rather be giving the president a monthly update of judgment debt payments to check abuse.
He said the President was right in setting up a COI  because the constitution says where there is intense public interest in an issue, the president could set up such a body. The saga of judgment debts clearly meets this requirement, he noted.
 According to Abotsi, it is a "feedback mechanism" for the President and others entrusted with power to "cause changes".
Lending his version of an illustration, he rationalised that even though automobiles are potential murder weapons, people have not stopped using cars. It is "bad drivers" who kill, he said, counteracting Egbert's claim that COIs are almost always abused.
"Commissions of Inquiry are good", he stressed, "finding of a Commissions of Inquiry may not be applied", he noted but nonetheless, we ought to focus on the "inherent quality" of COIs just as cars have their own inherent quality despite bad drivers.
He said the any attempt such as setting up a COI to investigate and stem the tide of public institutions failing to do the right thing will amount to saving a lot of money.
"We are going to use less money to chase more money. This is the basic principle in public finance..we are going to save more money for generations to come", he said.
Once the loopholes for dubious judgment debts are blocked, the country would be saving a lot of money, Abotsi predicted.
"If we are able to save tomorrow's money then money saved is money gained, he quiped
He reacted that using other institutions or "models" such as EOCO or the Police to investigate judgment debts as suggested by Egbert cannot be the same as using a Commission of Inquiry.
There are "subtle" differences, he said, insisting police investigations do not have the backing of a High Court as a Commission of Inquiry.
"The Police cannot compel you to speak the truth" which only attracts "lying to a public officials" but under a COI, this would carry greater punitive action - perjury, he observed.
Although he conceded to Egbert's claim that history doesn't speak well of COI  and his chronicle of its failures, he dismissed the conclusion of throwing it out.
He said "Ghana has failed in many respects. It's been 50 years plus of our independence. We have failed in many respects. We continue to soldier on. We wake up every morning bracing that traffic believing that tomorrow will get better.
He said Egbert's historical inquiry should be used to advice us against where we failed but not to be used as a basis to dismiss it.
 
The End of the matter
The impressive turn out turned up the applause after both speakers ended their rebuttals. The Moderator Emile Short invited comments and questions and soon found himself having to cut off the invitation. The contributions and comments appeared ceaseless.
In the ensuing vote, 43 people voted for the motion, 31 voted against the motion while 4 found reason to abstain.
Abraham Amaliba and other raised thier hand to vote Story by Ghana|Myjoyonline.com|Edwin Appiah|[email protected]