UEW to set up printing press to print course books and materials - VC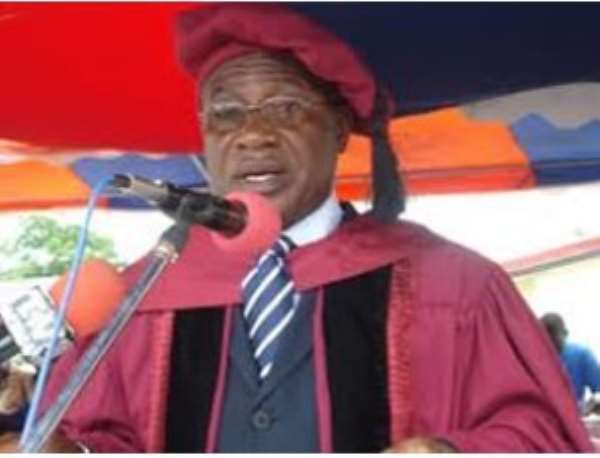 Professor Akwasi Asabere Ameyaw
Winneba (C/R) April 10, GNA - The University of Education, Winneba (UEW) is taking delivery of equipment to set up a printing press to facilitate the production and delivery of course books and other learning materials.
The equipment is currently at the Tema harbour.
The Vice-Chancellor, Professor Akwasi Asabere-Ameyaw said these at the Second Session of the 18th Congregation of the University at Winneba.
A total of 8,978 students from the Centre for Distance Education of the Institute for Educational Development and Extension (IEDE) for the Southern Sector and the School of Graduate Studies graduated.
They were awarded with degrees, Diploma and Certificates.
The graduation for the Northern Section will take place at Kumasi on April 12 2014.
Professor Akwasi Asabere-Ameyaw said UEW in collaboration with the African Virtual University (AVU) in Kenya, had established a Center to run online programmes in Teacher Education, Science, Mathematics and ICT.
According to him the AVU has shipped to the University a container with assorted equipment valued at 1,667,605.20 Dollars,
He said the container is at the moment being cleared at the Tema Harbour.
Profession Asabere-Ameyaw noted that with the UEW 24 Study Centers for Distance Education across the country, plans are underway to open new Study Centers in Ho, Sunyani and Somanya.
UEW will soon commence the construction of ultra-modern Study Centre and UEW Guesthouse in Accra, he added.
GNA