MSF blasts 'shameful' UN in South Sudan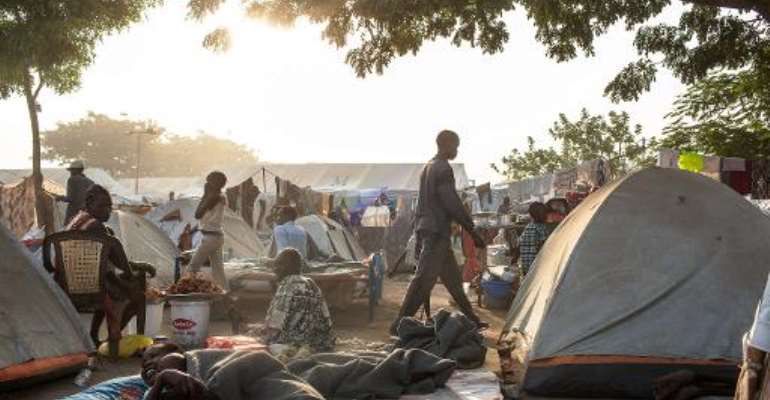 Juba (AFP) - A leading international aid agency on Wednesday issued a stinging attack on the United Nations mission in South Sudan, accusing it of a "shameful attitude" and leaving thousands of displaced people living in squalor.
Medecins Sans Frontieres (Doctors Without Borders, MSF) said UN officials had left terrified civilians sheltering in a flood-prone part of a UN base "exposed to waterborne diseases and potential epidemics", even while acknowledging the camp was a "death trap".
"In a shocking display of indifference, senior United Nations Mission in South Sudan (UNMISS) officials have refused to improve living conditions for 21,000 displaced people," MSF said.
"The UNMISS decision not to improve conditions in Tomping is shameful," added MSF's emergency coordinator Carolina Lopez, referring to the UN base in South Sudan's capital Juba were thousands have sought refuge from a wave of ethnic violence.
"If nothing is done right now, the consequences, already horrific, could become fatal," she said, as the onset of the rainy season as seen bases flooded, latrines collapse and appalling public health conditions.
The fierce criticism came just days after UN Secretary-General Ban Ki-moon praised operations in South Sudan as an example of how lessons had been learned after the genocide in Rwanda. Ban said UN was still living with the "shame" of having failed to protect Rwandan civilians.
"Recently in South Sudan... thousands were fleeing for their lives in the latest round of fighting. The UN opened the gates of its peacekeeping bases to shelter them," Ban had said in Kigali on Monday during commemorations marking the 20th anniversary of the genocide.
But MSF argued that the UN was failing to do enough in South Sudan, which has been in conflict since mid-December when troops loyal to President Salva Kiir clashed with supporters of his former deputy Riek Machar.
The war has since spread across the world's newest nation, with thousands seeking UN protection from ethnic massacres by security forces from Kiir's Dinka tribe or rebels from Machar's Nuer people.
"The UN mission in South Sudan reported to the UN Security Council on 18 March that 'Protection of Civilians' is a key priority," said Jerome Oberreit, MSF's secretary-general.
"We urge the UN leadership to remember that protection means more than just corralling people in a guarded compound. Adequate living conditions are also essential, and require urgent, pragmatic action. People must be safe from disease as well as safe from violence."