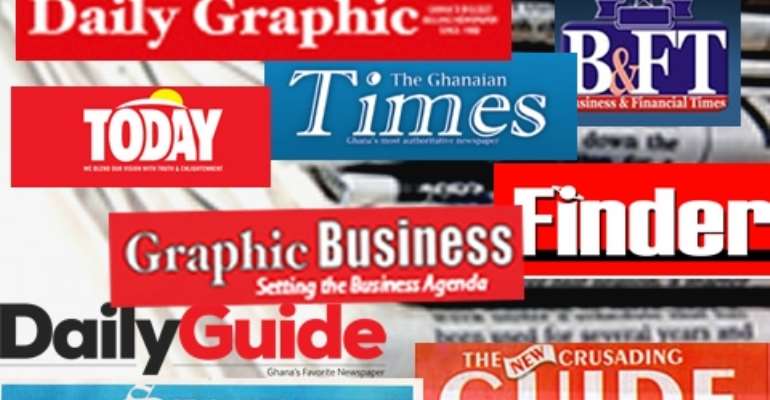 DRIVER'S LICENCE RACKET BOOMS: TIGER EYE INVESTIGATIONS REVEAL ROT AT DVLA
Undercover investigations at the Driver and Vehicle Licensing Authority (DVLA) have established a licence racketeering network of officials and some deviants who issue licence to unqualified individuals for personal monetary gain.
2 ROBBERS JAILED 70 YEARS IN K'DUA
The Koforidua Circuit Court yesterday sentenced two armed robbers to 35 years in prison each.
WORLD BANK WARNS GHANA OVER GROWING FISCAL DEFICIT
The World Bank has expressed concern about Ghana's growing fiscal deficit and warned of dangerous repercussions if the figure increases above 10 per cent of gross domestic product (GDP).
KWABENA AGYAPONG INVOLVED IN ACCIDENT
One of the aspirants for the General Secretary position of the New Patriotic Party (NPP) Mr Kwabena Agyapong, was yesterday involved in a car accident on the Accra Nsawam road.
JUSTICE APAU BEMOANS HIGH JUDGEMENT DEBT PAYMENTS
The Sole Commissioner of the Judgement  Debt Commission, Mr Justice Yaw Apau, yesterday shed tears out of frustration at the connivance of public servants and private individuals to dupe the state in the name of judgement debts.
FUEL BONANZA FOR SMUGGLERS
Smuggling of refined petroleum products from Ghana to Ivory Coast through the Dormaa West District of the Brong Ahafo Region is regarded as the most lucrative business in the area.
MP ACCUSES EX-MP OF GALAMSEY
The Member of Parliament for Banda Constituency in the Brong Ahafo Region, Ahmed Ibrahim, is accusing the former Member of Parliament for Tain, Joe Danquah, of engaging in illegal mining at Dokokyina in the catchment area of the Bui Hydro Dam, but Mr Danquah has denied the accusation.
THREE WEE DEALERS BUSTED
The Teshie Police Command has arrested three men in possession of 59 sacks of dried leaves suspected to be Indian hemp.
CAUSING FINANCIAL WASTE TO STATE: UNDERSIZE FREE SCHOOL UNIFORMS UNABLE TO FIT PUPILS
Investigations conducted by the Daily Heritage reveal that hundreds of the free school uniforms distributed by the government to pupils of public schools in the Okaikoi South Education Sub-metro have been left to rot.
BOY, 17, STABS MUM TO DEATH
Fear gripped the Ghanaian community in Dusselfdorf, Germany when Sidney Gyamfi Brown, a seventeen -year-old killed his forty-year-old mother, Akosua Gyasiwaah Brempong a week ago using kitchen knife over a squabble.
CURSES KILL 102 YEARLY AT BEGORO
The Begorohene, Daasebre Awua Kotoko has expressed deep worry about the upsurge of invocation to death curses at Begoro in the Eastern Region which account for 102 deaths yearly.
GHC 42,000 BALLOONS TO GHC993,000 AS JUDGMENT DEBT
A sixty-eight acre land valued at GHC42,000.00 in 2000 has now ballooned to become a judgment debt sum of GHC993,000 AS OF September 2013, according to the counsel for Jasikan District Assembly, Kwasi Busumpim.
[MORE PAPERS SOON...]