Retired diplomat condemns support for foreign companies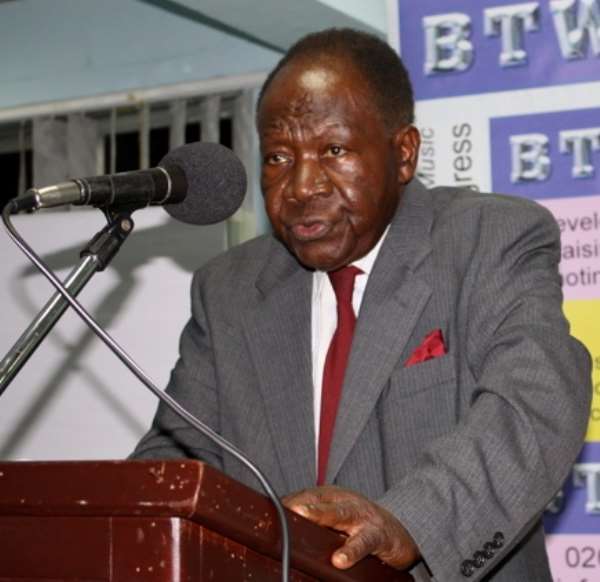 K B Asante
Accra, April 8, GNA Mr K. B. Asante, a former diplomat, has expressed worry over governments intention to support foreign real estate companies to build houses in Ghana.
He said the decision by the government to facilitate loans or assist foreign estates developers like those from South Korea, which did not materialize, and now the Moroccans, leaves a lot to worry about.
Mr Asante said this in an interview with the GNA on the sideline of a public lecture organised by the Institute of Economic Affairs on the theme: Marcus Garveys Economic Empowerment and Relevance to Ghana.
He said Ghana could boost of competent real estate companies which, when given the same assistance that is being offered to foreign firms, could do even better jobs.
The lecture was attended by representatives from various Pan-Africanist movements, students from the Institute of African Studies, Political Science and History departments of the University of Ghana.
Mr. Asante said under the leadership of late President Osatyefo Dr Kwame Nkrumah Ring Road Estates, Labone Estates and the Job 600 were all built by Ghanaians, adding that this was because Nkrumah had confidence in the Ghanaian.
He appealed to the government to have confidence in Ghanaian estate developers, assist them and they would deliver, adding the Moroccans are not better than us.
On the rate of depreciation of the cedi against the dollar, Mr Asante said no amount of manipulations of banking rules would save the cedi except Ghanaians begin to produce more for the export market to earn more foreign exchange.
He called for the imposition of taxes on imported items like rice and chicken products in order to salvage the local rice and poultry industries.
Mr Asante said taking loans for the nations socio-economic development was good but it should be done with circumspection.
He said from the look of things we seem to be moving backward and urged Ghanaians to change their attitude and have confidence in themselves and to patronize local goods.
GNA