World Bank briefs journalists on latest Africa Economics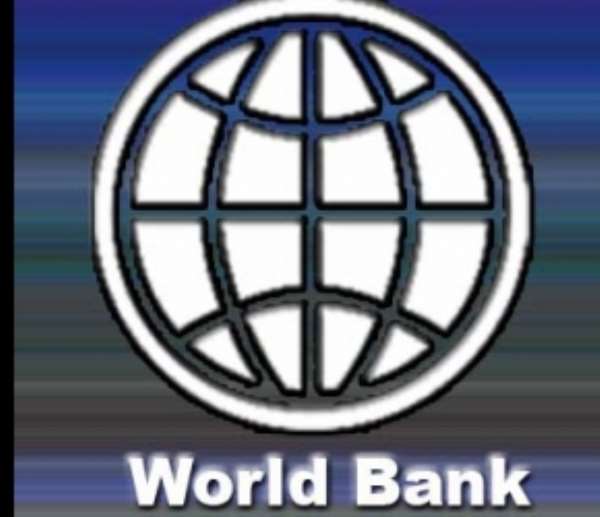 World Bank
Accra, April 8, GNA The economic growth in Sub-Saharan Africa (SSA) continues to rise from 4.7 per cent in 2013 to a forecasted 5.2 per cent in 2014.
This performance is boosted by rising investment in natural resources and infrastructure, and strong household spending, according to the World Banks new Africas Pulse, a twice yearly analysis of the issues shaping Africas economic prospects has revealed.
At a press conference with journalists, the World Bank said growth was buoyant in resource-rich countries, including Sierra Leone and the Democratic Republic of Congo and it remained steady in Cote dIvoire, while rebounding in Mali, and supported by improved political stability and security.
The journalists were joined by Mr. Francisco Ferreira, Chief Economist for the Africa Region and Ms. Punam Chuhan-Pole, Lead Economist in the Africa Region via video conference for a discussion on Africas recent economic progress and future challenges in sustaining Africas economic growth in a changing global environment to launch the Africa Pulse in Accra on Monday.
The non-resource-rich countries, particularly Ethiopia and Rwanda, also experienced solid economic growth in 2013, the World Bank said.
Capital flows to SSA continued to rise, reaching an estimated 5.3 per cent of regional Gross Domestic Product (GDP) in 2013, significantly above the developing-country average of 3.9 per cent, while net Foreign Direct Investment (FDI) inflows to the region grew 16 per cent to a near record 43 billion US Dollars within the same period.
This was boosted by new oil and gas discoveries in many countries including Angola, Mozambique and Tanzania.
The Bank said with lower international food and fuel prices, and prudent monetary policy, inflation slowed in the region, growing at an annual rate of 6.3 per cent in 2013, compared with 10.7 per cent a year ago.
Some countries, such as Ghana and Malawi, the Bank explained, had seen an uptick in inflation because of depreciation currencies, but remittance to the region grew 6.2 per cent to 32 billion US. Dollars during the period, exceeding the record of 30 billion reached in 2011.
These inflows, combined with lower food prices, boosted house real incomes and spending.
The bank quoting UN World Tourism Orgnisation said tourism also grew within the period, helping to support the balance of payments of many countries in the region, with international tourist arrivals in SSA grew by 5.2 per cent, reaching a record 36 million, up from 34 million in 2012, contributing to government revenue, private incomes and jobs.
Mr. Makhtar Diop, the World Bank Groups Vice President for Africa, said strategic reforms are needed to expand young peoples access to science-based education at both country and the regional level, and to ensure that they graduate with cutting-edge knowledge that is relevant and meets the needs of private sector employers.
High Quality University programmes in Africa, particularly in areas such as the applied sciences, technology, and engineering, could dramatically increase the regions competitiveness, productivity and growth, says Mr. Diop.
Mr. Diop noted that a number of African countries were now routinely among the worlds fastest-growing countries as a result of sound macroeconomic reforms in recent years and the fact that the rest of the world had steadily updated its reality of the continent as a high opportunity region for trade, investment, business, science and technology as well as tourism.
Poor physical infrastructure will, however, continue to limit the regions growth potential. Significantly more infrastructure spending is needed in most countries in the region if they are achieve a lasting transformation of their economies, the World Banks Vice President for Africa noted.
The Africas Pulse said the regions infrastructure deficit was most acute in energy and roads and that across Africa, unreliable and expensive electricity supply and poor road conditions continued to impose high cost on business and intraregional trade.
The Africas Pulse noted that while GDP growth in the region was expected to remain stronger than in many other developing countries worldwide a number of important risks remain.
On commodity prices, it said weaker demand for metals and other key commodities, combined with increased supply could lead to shaper decline in commodity prices.
Particularly Chinese demand, which accounts for about 45 per cent of total copper demand and a large share of global iron ore demand, remains weaker than in recent years and supply continues to grow robustly, copper and iron ore prices could decline more sharply, with significant negative consequences for the metal producing countries, it advised.
GNA