British Council builds capacity of English Language teachers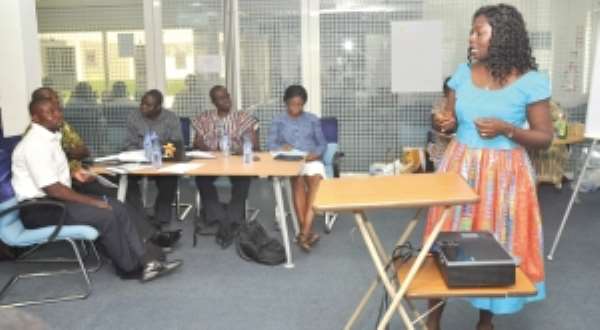 About sixty teachers from junior high schools in the La Dadekotopon District in the Greater Accra Region have benefited from a training workshop to enhance their proficiency in English Language.
The workshop, which was under the auspices of the British Council, with support from Resource Link Centre, an academic support facility, was also geared towards building the capacity of teachers and sensitising them to efficient ways of making the study of English language more appealing to their students. 
It was also to bring teachers from the various schools together to learn and brainstorm on measures to help their students in the areas of reading, grammar, vocabularly, comprehension, composition, and critical thinking.
 
Essence of the workshop
The Project Manager of Schools and English Language under the British Council, Mrs Ivy Apreku, told the Daily Graphic that the Council possessed the core mandate to support learning and teaching of English Language in the countries that the British Foreign Affairs operated.
According to her, one of the constraints undermining the effectiveness in the teaching and learning of the subject in the country was that learners did not have a proper and requisite foundation.
She attributed this occurrence to the system where teachers who were assigned to teach English language at the primary level were not trained to solely teach the subject, but rather taught all genre of subjects.
"This workshop therefore is to help address this issue and to help classroom teachers at the primary level and teachers in the junior high schools to help their learners, and build an appropriate foundation for them before they enter secondary schools," she said. 
Furthermore, she said her outfit had contracted the services of a consultant who would give the participants ongoing support back in their schools, adding that the ulterior motive of the engagement of the consultant is to identify the areas that needed an immediate redress and to help facilitate the operations of the organisation.
Mrs Apreku observed that the initiative was expected to help students improve on the English language in the B.E.C.E and to help relieve the burden on school authorities, especially those in the deprived schools.
 
Other concerns
The Director of Resource Link Centre, Mr Richard Laryea, said that the team, through its training, observed that the teachers did not have adequate logistics and resources for their operations.