Ghana To Face Capital Flow Hitches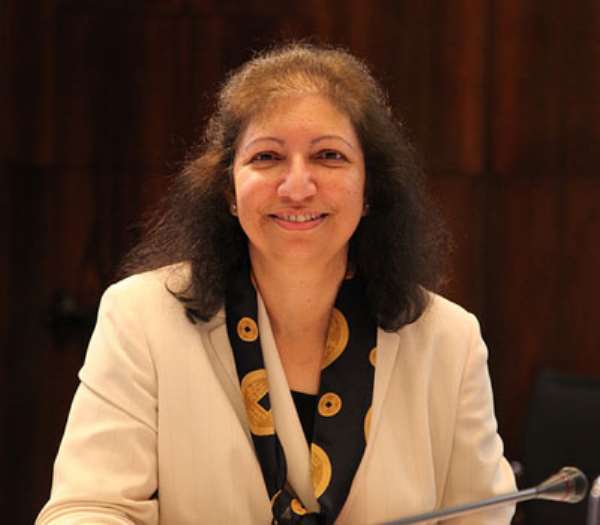 Ms Punam Chuhan Pole, World Bank, Lead Economist, African Region
Ms Punam Chuhan Pole, World Bank, Lead Economist, African Region
World Bank (WB) has disclosed that capital flows to Ghana are expected to reduce in 2014, as the process of normalization in global financing conditions continues.
According to the World Bank's latest Africa's Pulse report , 'As the recent episode of market volatility has demonstrated, frontier market countries such as Ghana, Nigeria and Zambia, which have seen significant portfolio inflows in local securities markets will also be affected by the reversal of capital flows.
The report said a rapid and disorderly rise in interest rates or pull-back in capital flows remains a major concern for Ghana and other West Africa countries.
'Financial market and capital flow volatility has already led to sharp policy adjustments in countries in the sub-region,' it stated.
The report said similarly countries that are planning to tap the international bond markets are likely to face higher coupon rates.
It said simulations conducted for the January 2014 Global Economic Prospects Report suggest that a sudden 100-basis-point increase in U.S bond yields, as observed in summer 2013, could be expected to lower capital inflows to developing countries by about 50 percent for several months.
'This implies a significant increase in the cost of raising capital, which could lead to lower investment and growth', the report said.
It said economic growth in Sub-Saharan Africa continues to rise from 4.7 percent in 2013 to a projected 5.2 percent in 2014, stating that 'this performance is boosted by rising investment in natural resources and manufacture, and strong household spending.'
The report said capital flows to sub-Saharan African reached an estimated 5.3 percent of regional Gross Domestic Product (GDP) in 2013 significantly above the developing-country average of 3.9 percent.
It said net foreign direct investment inflows to the region increased by 16 percent to a near-record $43 billion in 2013 boosted by new oil and gas discoveries in many countries, including Angola, Mozambique and Tanzania.
The report noted that while GDP growth in the region is expected to remain stronger than in many other developing countries worldwide, a number of important risks remain.
 
By Cephas Larbi