Improved Conditions for JUSAG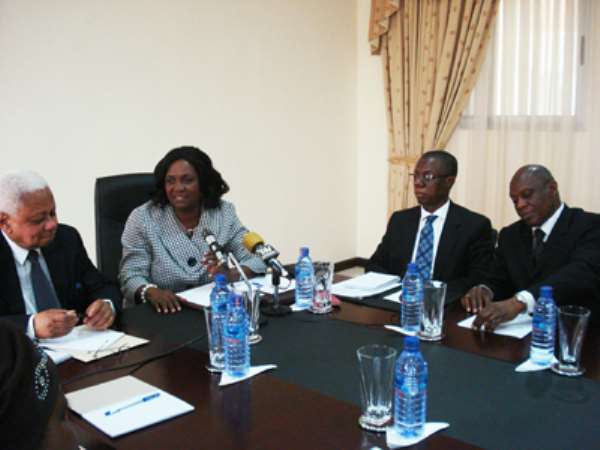 By Jamila Akweley Okertchiri
The Chief Justices Judge Mohamed Chande Othman (right) and Justice Georgina Theodora Wood at the meeting
The Chief Justice of Ghana, Justice Georgina Theodora Wood, has announced the process of amending the judicial service law to incorporate its administrative support staff which forms the Judicial Service Association of Ghana (JUSAG).
The Chief Justice said the current administrative staff of the judicial service of Ghana falls under the central government administration, a situation, she indicated, was hampering the efficiency of the service.
She said the issues of separation of administrative staff like the Director of Human Resource or Communications from the judiciary does not produce efficiency mainly because of the rumbling which goes on, due to the conditions of service given to the judiciary.
'What we are trying to do is to amend the law to have one common judiciary including even drivers of judges and this is what pertains in Kenya, and it is to make the system run more efficiently in Ghana,' she said.
Justice Georgina Theodora Wood made these statements during a courtesy call by a 17 member judicial service commission delegation from Tanzania, on Monday.
The meeting was to afford the two organisations the opportunity to exchange knowledge and experience between the two institutions as well as draw lessons from each other.
Judge Mohamed Chande Othman, Chief Justice of the United Republic of Tanzania and Chairman of the Judicial Service Commission, in his interaction with the Chief Justice acknowledged the relationship between the two countries.
He said it was important for the committee to learn from other African countries because of the similarity in the running of the system.
'We are here to bench mark some of our own initiative strategies that we have plans of action and so on,' he said.
The 17 member delegation from Tanzania included justices, court administrators, private advocates and commissioner, court registrars, magistrates, deputy private secretary and principal human resource manager.
By Jamila Akweley Okertchiri