Court Imposes 45 Years Jail Sentence On Nine Illegal Miners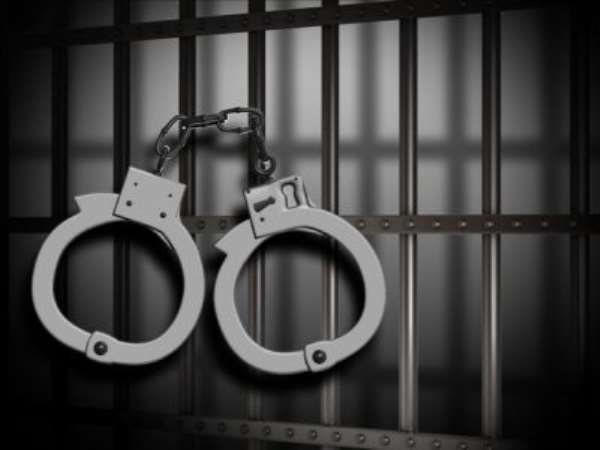 Nine 'explosives throwing' illegal miners, who have been scrounging and mining illegally at AngloGold Ashanti Obuasi underground operation were given a total of 45 years sentence by court in Kumasi. They were each ordered to pay GH5, 000.00 or in default serve five years imprisonment.

William Boampong, the Kumasi circuit judge, imposed the sentence, saying you have option to a total fine of GH45, 000.00 (GHC5000each) or you go to prison for 5years.
The convicts are Kwaku Broni, Zakari Abdella, Joseph Agure Atopila, Sulemana Nodawu, Inusah Tahiru, Kofi Saga, Kwabena Baffoe, Abdul Razak and Ibrahim Yacus.
They were caught in the concession of the AngloGold Ashanti, Obuasi and pleaded guilty to charges of being on the premises for unlawful purpose and operating small-scale mining without license.
Three other persons who stood trial with them, Kofi Sikayena, Adongo Alasule and Yussif Dramani, however, insisted they were innocent and each was granted bail in the sum of GH50, 000.00, with a surety. They would make their next court appearance on April 9 2014.
Police Inspector Gulliver Kwabena Tenkorang told the court that the 12 miners were arrested on March 27 at about 1400 hours by the company's security personnel and handed over to the Obuasi police.
The illegal miners, who are heavily linked by the Obuasi police to the explosive throwing syndicate dangerously operating underground illegally, claimed in their caution statement that they had been engaged by one Kumah, now on the run, to carry sack-loads of crashed rocks suspected to contain the ore at a fee.
Kumah, a hard core illegal miner, has been on the wanted list of the national security task security taskforce since March last year, is believed to be hiding either in Kumasi or Dunkwa area.
The 9 illegal miners are part of the more than 33 illegal miners who were nabbed by the combined team of the Obuasi Divisional Police at the northern section of the Obuasi mine by the military taskforce and the Obuasi mine security, March this year.
About AngloGold Ashanti
AngloGold Ashanti is a global gold mining company and the world's third largest gold producer. Headquartered in Johannesburg, South Africa, AngloGold Ashanti has 20 operations on four continents and one of the gold industry's most successful exploration teams which work across both the established and new gold producing regions of the world.
This includes land positions in Colombia, Guinea and Australia, among others. AngloGold Ashanti employed 61,242 people, including contractors, in 2011 and produced 4.33Moz of gold, generating $6.6bn in gold income. Capital expenditure in 2011 amounted to $1.5bn. As at 31 December 2011, AngloGold Ashanti's Ore Reserve totalled 75.6Moz.
The primary listing of the company's ordinary shares is on the JSE Limited (JSE). Its ordinary shares are also listed on stock exchanges in London and Ghana, as well as being quoted in New York in the form of American Depositary Shares (ADSs), in Australia, in the form of CHESS Depositary Interests (CDIs) and in Ghana, in the form of Ghanaian Depositary Shares (GhDSs)
Media Contact:
John Owusu Tel: +233 244 322 026
E-mail: [email protected]