101 Illegal Lotto Operators Arrested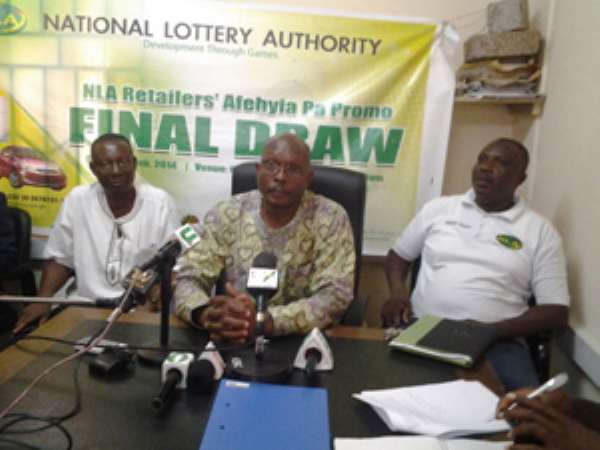 Lt Col (rtd) Yaw Dzotefe-Mansah (Middle) flanked by Fredrick Penu (Right), Regional Manager, NLA WR and Charles Yankson, Regional Manager, NLA, CR
One hundred and one illegal lotto operators engaged in lottery fraud in the Western and Central Regions were over the weekend arrested by the police in a joint operation with the National Lottery Authority (NLA).
DAILY GUIDE gathered that the operation was undertaken to tackle the recent surge in illegal lotto activities.
Those arrested have been placed in custody and would be arraigned before circuit courts in Takoradi and Cape Coast today.
At a press briefing yesterday, Lt. Col (rtd) Yaw Dzotefe-Mensah, General Manager in charge of security at the National Lottery Authority (NLA), explained that the NLA and the Ghana Police Service had intensified operations to arrest illegal lotto operators.
He revealed that 61 illegal lotto operators were arrested on Friday and Saturday in an operation carried out in collaboration with the Western Regional Police Command.
He indicated that the operation was carried out in the Sekondi-Takoradi metropolis, Tarkwa, Shama, Daboase, Elubo and Agona-Nkwanta, all in the region.
Lt. Col Dzotefe-Mensah added that a similar operation was carried out in the Central Region with the regional police command at Agona Swedru, Winneba, Mankessim, Kasoa, Elmina, Budunburam and Cape Coast.
He pointed out that during that operation, 40 illegal lotto operators engaged in lotto fraud were also arrested.
He stressed that the suspects violated the National Lotto Act, Act 722 of 2006 by operating lottery illegally.
'The National Lottery Authority wishes to re-emphasized that under the National Lotto Act 722, only the NLA is mandated by law to run lottery', he pointed out.
He commented: 'Any person or groups operating illegal lotto commit a criminal offence and on conviction, such person will be fined or given a custodial sentence of both'.
Lt. Col. (rtd) Dzotefe-Mensah informed the general public that a circuit court had placed an injunction on the Veterans Administration, Ghana (VAG) preventing it from engaging in lottery.
'It therefore constitutes contempt of court for people or institutions to operate with licenses issued by VAG,' he added.
He promised that the NLA would continue to monitor closely illegal lotto operators as well as those who stake illegal lotto.
'NLA, with the assistance of the Ghana Police Service, will continue to pursue and arrest illegal lottery operators across the country, and the laws will be rigidly enforced so that loss of national revenue as a result of the illegal activities will be halted,' he emphasized.
He encouraged the general public to continue to play NLA games at approved NLA kiosks across the country and called on the public to report any suspicious lottery activity to the nearest police station or NLA office.
'It is through such patriotic duties that we can collectively increase government revenue,' he stressed.
 
From Emmanuel Opoku, Takoradi