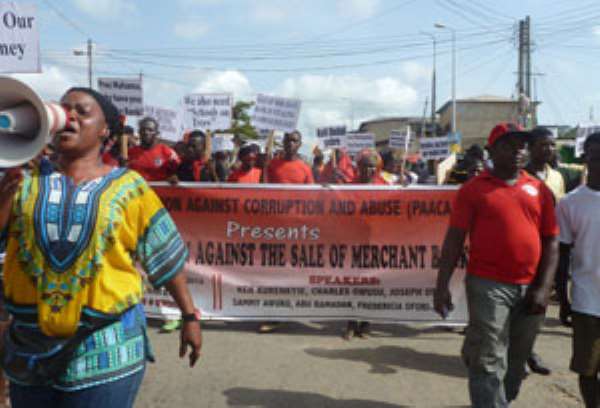 The protest march started round 6:00 am at the Siwdu Park, went through the principal streets of Cape Coast and ended in front of the SSINT building.
The demonstrators, clad in black and red dresses amidst drumming and dancing, held placards, some of which read, 'Where is our oil money?' 'TUC boss is toothless,' 'Kofi Dubai Yerebre,' 'Boys abre,' 'Sale of Merchant Bank is stealing in broad daylight,' 'Dumso Dumso government' and SSINT Contributors are not fools,'
Addressing the crowd, a member of the Progressive People's party (PPP), Charles Owusu, stated that President Mahama came into power to kill, destroy and to steal hence, the need for Ghanaians to be bold to speak against his bad government.
Mr. Owusu described President Mahama as 'the most corrupt President' that the country has ever had since his government has been described as 'create, loot and share' government.
'Some of us cannot sit down for Mahama and his family to drive the whole nation into a pit,' he added.
He bemoaned a situation where fuel prices are increased frequently in the country, making life difficult and unbearable for Ghanaians.
The editor of Searchlight newspaper, Ken Agyei Kuranchie, underscored the need for Ghanaians to stand up and stop the President from selling the Social Security and National Insurance Trust (SSINT) Bank (Merchant Bank) to his brother, Ibrahim Mahama and the others.
He commended the demonstrators for taking that bold decision, adding that their presence was even an indication that they love their country and want the best for it.
In attendance were the Cape Coast South New Patriotic Party (NPP) chairman, Ernest Arthur and his executives; the NPP rregional secretary, the regional communication officer, Kwamena Duncan and Takyi Mensah.
 Email:[email protected]
From Sarah Afful, Cape Coast