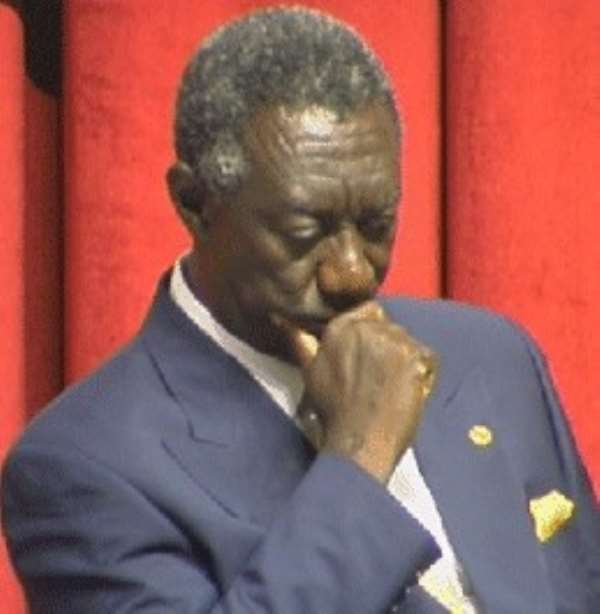 The rumour has been 'mongering' for a very longtime, that President John Agyekum Kufour, President of the Republic of Ghana, has a set of bastard twins following a rollicking affair he had with one Ms Gizelle Yajzi, a foreign lady who was engaged in one capacity or another at the Ministry of Finance.
Ghana Palaver has been especially inundated with snippets of information and seemingly authentic e-mail correspondence allegedly confirming the rumour and almost "compelling" us to "break the story". For three months now, newsmen have sought without success, an appointment with either President Kufour himself or with Presidential Press Secretary, Kwabena Agyapong to get their reaction before the story is published.
Then the 'Searchlight' broke the story last week, though without naming the President by name. Then 'Radio Gold' managed to get an interview with a lady purporting to be Madame Gizelle Yajzi herself last Friday.
"No, I don't have twins. Not with President Kufuor or with anybody else," she stated on air. "No, I have not been pregnant for the last 20 years. It is all lies. Yes, I have two children, a boy aged 20 and a girl aged 18", she insisted.
But that was not the story as Ghana Palaver had learnt it.
What Ghana Palaver had learnt was the story of a very intelligent, intellectual lady who came to Ghana to help the NPP Government secure some investments and who was taken advantage of by the President, as a result of which a set of male twins was born, named John and Philip Kufour. The story further went that Madam Theresa Kufour was livid when she heard about it, that she wanted an instant divorce but could not because she was a Catholic, and therefore reported the matter to a very senior Catholic Bishop (name withheld for now), that one of the President's sons intervened with the Bishop and pleaded for the mother to be convinced to "give all to God".
That was the state of our knowledge when we sought the reaction of the President and his Press Secretary to the story and failed and before the 'Searchlight' broke the story. How it all began It all began when we had information that a certain foreign lady was "masquerading" as Special Adviser to Mr Yaw Osafo-Maafo, Minister of Finance, and was costing the Government of Ghana thousands of dollars without doing any specific job. We hinted at this from time to time in our columns. Then we learnt that Ms Gizelle Yajzi was Osafo-Maafo's lover who was being "kept" by him and for him at the state's expense. At that time, our information was that Ms Yajzi was ensconced at the plush La Palm Beach Hotel, complete with bodyguards and all, at state expense.
We cooperated with a sister media house to administer a set of questionnaire on the Minister of Finance. It yielded no response. Then the story changed. "You've got it all wrong. President Kufour is the culprit, not Osafo-Maafo", a source told the Palaver. Then the e-mail started coming. The first one read: "Do you know that President Kufour had twin boys on April 2003 with a foreign woman? The boys live with their mother. Their names are John and Philip Kufour." It was dated December 27, 2003 Then we really went to town, to find out about the mysterious Gizelle Yajzi and her twin baby boys "begat of J.A. Kufour, President of the Republic, and to find out if there was any truth to the story at all.