Artistic licence: Ghana's film posters win fans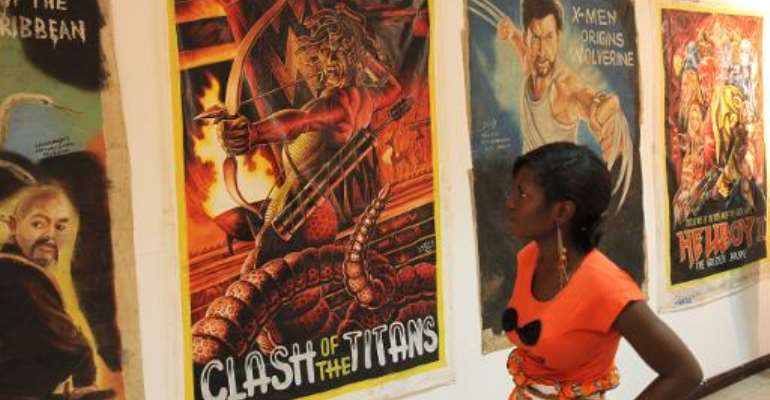 Accra (AFP) - Oko Afutu knows exactly what will get people flocking into theatres to watch the British horror film "Dog Soldiers": a poster showing a werewolf biting off a man's head.
From his front porch in a suburb of Ghana's capital, Afutu spends his days painting garish movie posters for the films that show at movie theatres around Accra.
Each poster Afutu paints earns him about $56 (40 euros, 34 pounds).
But outside Ghana, the idiosyncratic interpretations of Hollywood blockbusters by local artists like him are coveted by art collectors and can sell for hundreds, if not thousands, of dollars.
"The major appeal to them is the mystery," said Brian Chankin, who collects Ghanaian movie posters and displays them at his Chicago video rental store.
"The misspellings don't matter; the placement of characters on the canvas is always a little bit awkward. It's all in the flavour, that's for sure."
In his quest to entice cinema-goers, Afutu spares no detail: if a movie is bloody, his posters will be bloody; if there's nudity, there's nudity on the poster.
"That poster will attract them to go and watch the movie," said Afutu, who has been painting since 1988.
"The way they will think of the movie will be (as) a wicked or hard movie."
- Imaginative reworkings -
Ghana has seen an influx of cash as its economy expands on the back of new-found oil and its longstanding exports of gold and cocoa, creating a growing advertising culture for a rising middle class.
When anthropologist Joseph Oduro Frimpong was growing up, the slick, computer-generated roadside billboards that now advertise everything from cars to concerts were all hand-painted.
So, too, were the posters at Accra movie theatres.
When Frimpong found a batch of old movie posters being sold off by a cinema, he started collecting them, eventually amassing a collection of about 100.
"These are not naive or immature, these roadside artists," Frimpong said at a recent exhibition of 1980s Ghanaian movie posters at the Alliance Francaise cultural organisation in Accra.
"These are really creative people."
Frimpong's collection includes many from what Ernie Wolfe, an art dealer who collects Ghanaian posters and has also authored two books on the subject, calls the "golden age" of movie art.
They came from a time when televisions were few and far between in the west African nation and DVD players weren't even on the horizon.
In the late 1980s, people would jam film projectors, diesel generators and the hand-painted posters into trucks and head out to villages to show movies to crowds far removed from cities and their cinemas.
While movies would make their way on videocassettes down to Ghana, the slick posters of Hollywood artists often wouldn't come along with them, forcing the artists to come up with ideas themselves.
"We didn't have Internet at that time," said Daniel Anum Jasper, who has been making film posters since 1986 from a workshop on a busy roadway outside Accra.
"We just watched the movie and we took parts of the pictures... and we used that to create the movie posters."
- Embellishment and fabrication -
The posters are often exaggerated interpretations of the movies they were promoting.
No Samurai swordsmen appear in the 2003 blockbuster "Pirates of the Caribbean: The Curse of the Black Pearl", for example, but one does on a poster in Frimpong's collection.
Similarly, there is no large red fish on the original poster of the James Bond film "The Spy Who Loved Me" -- or, indeed, anywhere in the film.
Wolfe said the inauthenticity of the Ghanaian posters was part of their appeal.
"They (the artists) were the final arbiters of what it was they produced," he said.
"There were no 'suits' (managers) peering over their shoulders. They made their images and often they were very exotic. So, as a matter of course, they often included images that didn't exist."
The Ghanaian posters now sell for anywhere from a few hundred dollars to the high thousands of dollars, Chankin said.
"I showed 'Pinhead' to Clive Barker and he just couldn't believe that they had taken his image and taken it to a completely another place," Wolfe said, referring to the author of the novella that spawned the sadistic, pin-studded villain of the "Hellraiser" movie franchise.
Afutu, however, doesn't pay much attention to the international hubbub over his art.
He's too busy painting, watching movies and coming up with new ideas.
"It's my job, so I always have to do it," Afutu said. "You have to love your job."