UN accuses Chad troops of unprovoked C.Africa killings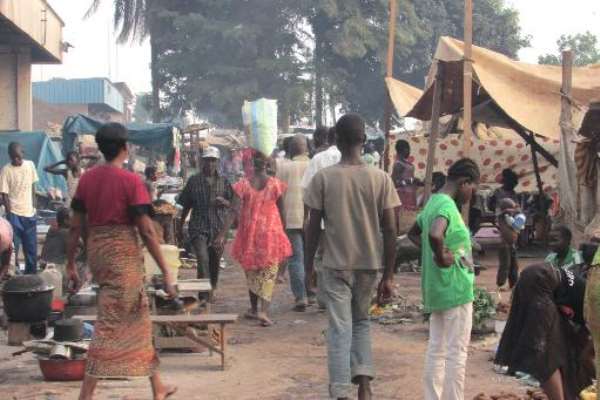 People walk on March 18, 2014 in Bangui, at a makeshift camp near Bangui's airport where some 100,000 people who had fled their homes are crammed into a vast tent city near the bases of foreign soldiers. By Pacome Pabamdji (AFP/File)
Geneva (AFP) - The UN accused Chadian soldiers Friday of carrying out an unprovoked attack when they opened fire in a crowded market in the Central African Republic's capital Bangui, killing at least 30 people.
The damning findings came a day after Chad -- under fire over the Saturday attack, which also left 300 people wounded -- angrily announced it was withdrawing from the African peacekeeping force struggling to restore security in the strife-torn state.
An investigation into the attack found the Chadian troops had "opened fire on the population without any provocation," said a spokesman for the UN's human rights arm.
"As panic-stricken people fled in all directions, the soldiers allegedly continued firing discriminately," the spokesman, Rupert Colville, said.
"According to our preliminary findings, at least 30 people were killed as a result of the shooting and over 300 were seriously injured, including children, people with disabilities, pregnant women and the elderly, as these were the people least able to run for their lives.
"Why they start shooting like this in the marketplace is not clear," he added.
The attack apparently ended when Congolese peacekeepers arrived, said Colville.
Chadian soldiers in the 6,000-strong MISCA peacekeeping force have reportedly been jittery. MISCA says local militiamen have staged targeted attacks on the Chadian contingent.
Chad said Thursday it was pulling its troops from MISCA because of "a wanton and malicious campaign" against them.
Chadian soldiers have been accused of siding with the mainly Muslim Seleka movement -- which seized power in March 2013 and held it until January this year -- and of condoning the abuses carried out by some of them against the majority Christian population.
Chad has always denied the charges, and has said it wants to keep working with the neighbouring country to rebuild security there.
The Central African Republic expressed regret Friday at the decision by Chad, one of the largest contributors to MISCA with about 850 soldiers on the ground.
But many Christians blame the Chadian troops for stoking strife, and say they will be glad to see them go.
MISCA's commander, Cameroonian General Martin Tumenta Chomu, said Chad's troops in Bangui would withdraw from the capital Friday and join other Chadian units stationed elsewhere in the Central African Republic.
"There will not be a single Chadian soldier or policeman in Bangui" by Friday night, he told AFP.
- Non-peacekeeping troops -
The UN said the soldiers responsible for the Saturday attack did not appear to be part of Chad's MISCA contingent.
Instead, they are believed to have been dispatched specially from Chad to evacuate Chadian citizens and other Muslims who have faced repeated attacks by Christian militia known as "anti-balaka".
"There have been (non-MISCA) Chadian soldiers operating earlier as well as now in CAR. In many cases they've saved lives, they've evacuated both people of Chadian nationality and also other Muslims to Chad," Colville said.
UN investigators in Bangui gathered evidence from survivors of the attack at two medical centres and the market in the city's PK12 district, where Muslims have been penned in and harried by militias.
Colville said the soldiers appeared to have returned to Chad after the attack in Bangui, which lies around 450 kilometres (280 miles) from the Chadian border.
MISCA forces, along with 2,000 troops from former colonial power France, have been struggling to restore order to the chronically unstable country.
The anti-balaka militias were formed last year in response to the Seleka coup, which installed the rebels' leader Michel Djotodia as the country's first Muslim president.
A vicious cycle of attacks and counter-attacks by the Seleka and anti-balaka has sunk the impoverished country into chaos, with thousands killed and about a quarter of the country's 4.6 million people driven from their homes.
Djotodia stepped down earlier this year under mounting international pressure.
On Tuesday, the European Union announced it had decided to send 800 troops to the Central African Republic.
United Nations chief Ban Ki-moon has called for a 12,000-strong UN peacekeeping force, but it is not set to be deployed until September.
On Friday, Ban strongly condemned the drawn-out conflict, saying he is "deeply troubled by the appalling atrocities against the civilians there", but did not mention the market attack.