AK 47 Land Guards Grabbed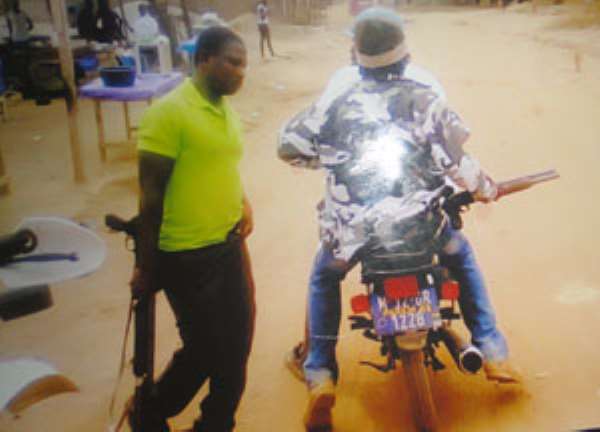 The AK-47-Weilding land guards before they were arrested
Six notorious land guards suspected to be part of a gang that had been terrorizing residents of Amasaman and its environs with pump action guns and other deadly weapons, have finally been arrested by the Amasaman Police near Accra.
Police received several complaints of suspects' activities, including the demolition of buildings of some residents of the area, while brutally assaulting others in the process.
The suspects include William Evadzi, 27; Alhassan Issah, 35; Moro Salifu, 25; a Nigerian, Fatau Mohammed, 26; Abubakar Sadiq, 26 and Usman Ibrahim, 30.
One of their pump action guns allegedly used for the operation, together with two machetes, a block hammer, two live cartridges, camouflage attire and some quantities of dried leaves suspected to be Indian hemp, were retrieved from the suspects upon their arrest.
http://www.dailyguideghana.com/wp-content/uploads/2014/04/landguards-3.jpg
The suspected land guards in police custody
Narrating the land guards' activities to the media, DCOP Christian Tetteh Yohuno, Accra Regional Police Commander, said the Amasaman Police received several complaints of their activities, including photographs of suspects openly patrolling the area holding an AK 47 assault rifle and the pump action gun, while using motorbikes to terrorize the inhabitants of a town called Aborkope, Amasaman.
He said the police became alert and on April 2, 2014, around 11:00 am, they intercepted the guards' Nissan Pathfinder with registration number AS 971 F, returning from the Aborkope village.
Six of them were immediately arrested but their leader, known only as Odinga, managed to escape.
Their pump action gun was retrieved together with the live cartridges, the two machetes and the block hammer, DCOP Yohuno revealed.
The suspects are now in the custody of the Accra Regional Police Command awaiting trial.
DCOP Yohuno said efforts were being made to retrieve the AK 47 rifle used by the suspects in their operations.
They would be prosecuted after investigations are over, according to the Accra Regional Police Commander.
He urged victims of the land guards to report to the police and also help with information leading to the arrest of their kingpin, Odinga.
( [email protected] mailto:[email protected] )
By Linda Tenyah