11 Suspected Robbers Arrested In Kumasi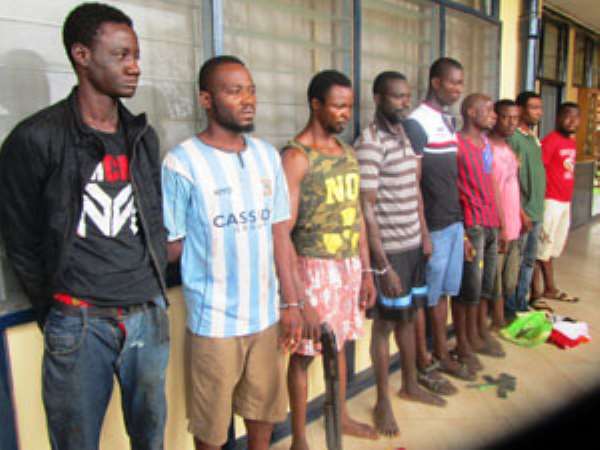 The suspects were identified as Kwame Boakye, 38; Kofi Yeboah, 19; Osei Kofi, 35; Ernest Gyawu, 27; Patrick Tettey, 33; Sadique Dramani, 39; Atubila Anyagede, 23; Matthias Akensi, 25 and Tofik Nuhu, 19.
They are suspected of being members of robbery gangs responsible for at least five robberies and raping of a Swiss national at the latter part of March 2014.
Other members of the syndicate, who are currently on the run, were named as Mohammed, Yaw, Awudu and Bawa, who are linked to robberies which happened in and around the Asafo interchange and railway line areas.
Speaking at a press briefing yesterday in Kumasi, ACP Osei Kwaku Ampofo Duku,  Ashanti Regional Deputy Police Commander, said the suspects were arrested following a series of operations by the police within the past two weeks.
According to him, on March 27, 2014, the police CID arrested Sadique Dramani, Kwame Boakye, alias Skido, and Patrick Tettey, for their alleged involvement in the Buokrom F-line robbery incident during which they allegedly raped a Swiss national at a Ghanaian friend's house.
The three were arrested from their hideouts. The police retrieved one pump action gun, one short gun, one locally made pistol, two jack knives, a machete, an axe and two hoods.
ACP Ampofo Duku narrated that Akwasi Agyemang, 24, Kwame Ntiako, 25, were arrested at Bebu near Manso Abura upon police intelligence, while they were preparing to attack and rob a bullion van on March 28, 2014.
The police again arrested Kofi Yeboah and Atubila Anyagede the following day for their involvement in a shooting incident at the Asafo-interchange area.
The police chief explained that the two young men were among other members of a robbery gang who were sharing their booty when Atubila shot and wounded Kofi Yeboah following a misunderstanding.
Other members of the gang, namely Mohammed, Yaw, Awudu and Bawa, managed to escape arrest and are being hunted for, the Deputy Police Commander disclosed.
In another development, the police also arrested Kwaku Binpe, alias Mere; Eric Wiafe, alias Kwame Osei; Theophilus Donkor and Victor Yankyira on March 15, 2014.
According to ACP Duku, the three were suspected to be highway robbers who had been terrorizing travelers on the Offinso-Ahenkro road.
Meanwhile, the police have nabbed 41 people in a swoop conducted on April 1, 2014, at some criminal dens in Kumasi, notably Akwatia-Line, Sepe Buokrom, and Bomso.
 From Ernest Kofi Adu, Kumas i