GNAT Warns Accountant-General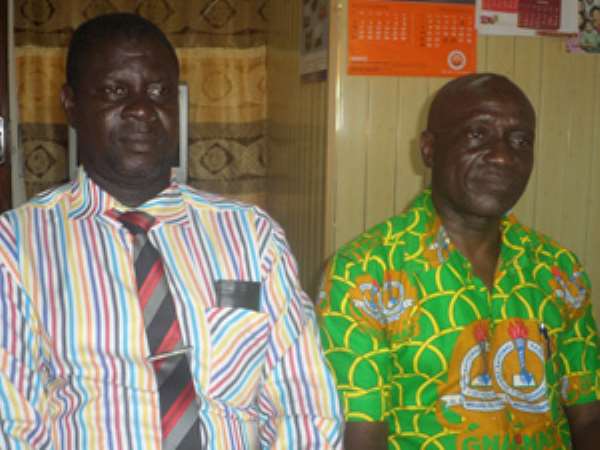 Mr. Yaw Gyan (right) with the Organiser, Kwasi Okrah
Mr. Yaw Gyan (right) with the Organiser, Kwasi Okrah
THE GHANA National Association of Teachers (GNAT) has issued a strongly-worded statement expressing its disgust about an alleged negative exercise being carried out at the Controller and Accountant-General's Department (C&AGD) against its members.
The association, in the statement issued by the Brong-Ahafo District Chairpersons of GNAT and copied to DAILY GUIDE on Tuesday, accused the (C&AGD) of forming what the teachers termed 'a mafia group' which conscripts members  into sister unions such as the National Association of Graduate Teachers (NAGRAT) and Coalition of Concerned Teachers (CCT) without following the due process.
According to the release, GNAT members who have not asked for any switch of membership are wrongfully moved to other unions and associations, saying that the development is so widespread that they believe that there is a conspiracy at the Department.
'We the members of GNAT in the Brong-Ahafo Region seriously abhor such illegal tendencies being exhibited by no less an institution than the C&AGD which operates by law,' GNAT lamented.
The statement, jointly signed by George Yaw Gyan, Chairman of the Brong-Ahafo District GNAT Chairpersons; the Secretary, Edwin Sarpong-Boakye and the Organiser, Daniel Kwasi Okrah, charged the Controller and Accountant-General to sit up and bring his personnel to order.
The association gave an ultimatum to the Director of Payroll to put his house in order.
'In fact, we are giving the Director of Payroll April ending to stop this unlawful act, other than that we will bus all our affected members to the Controller's office for such illegal acts to be reversed before they leave the place,' GNAT threatened.
According to the association, per the Labour law 2003 (Act 651) every worker has the right to join any union of his/her choice, and therefore wondered why the poaching of its members should be done through the Controller and Accountant-General's Department.
FROM Fred Tettey Alarti-Amoako, Sunyani