Colina Insurance Change Name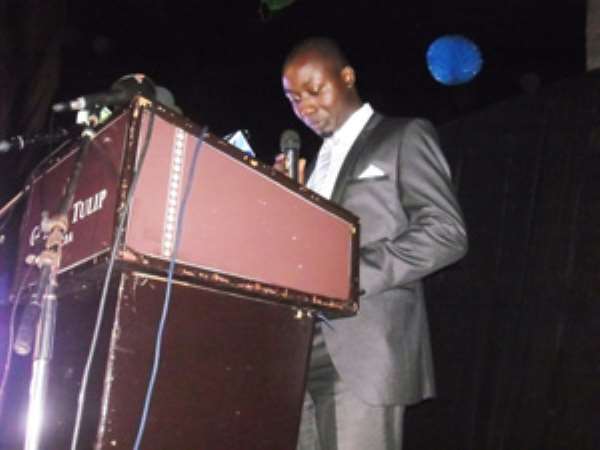 Ben Tawiah Ahmed speaking at the rebranding of Colina
Colina Insurance Group, an internationally acclaimed insurance company, has rebranded to Saham Insurance.
The rebranding of the company took place on Wednesday at the Golden Tulip Hotel in Accra.
According to Ben Tawiah Ahmed, Chief Executive Officer (CEO) of Colina Life Insurance now Saham Life Insurance, 'Our new vision driven by the new brand is 'We Believe In Tomorrow' with a mission to protect, assist and care for customers for a better future.'
'The new brand comes with it a new philosophy in doing our business. This philosophy is 'Feel Free to Move Forward.'
The Country Director of the rebranded Colina Insurance Group, Mel Kebe, was optimistic that the new brand would keep the company's pan- African spirit alive.
Meanwhile, Commissioner of National Insurance Commission (NIC), Lydia Lariba Bawa described the move as a great leap in the history of the two companies.
She urged Saham Insurance to introduce new products onto the Ghanaian insurance market.
Colina Group is a pan-African Insurer owned and managed by Africans and providing the best insurance solutions to a greater number of people in Africa and the Middle East.
The company has mostly operated in francophone countries of Africa including Ivory Coast, Cameroon, Senegal, amongst others.
The Group acquired LIA Insurance, the biggest insurer in Lebanon and subsidiary of Audi Bank, the largest Bank in Lebanon, thereby positioning the company as a key player in the insurance business in the Middle East.
The multi-billion dollar insurance company entered the Ghanaian market in 2010 with the acquisition of Beacon Insurance and Beacon Life Insurance.
Its vision is to be the leader of insurance business in all emerging markets.
Saham Group on the other hand, has a solid financial base and this strong financial base according to Mr Ahmed, was strengthened by the strategic and equity partnerships of the company with leading financial players of the world like Abraaj Capital, Wendel and the International Corporation (IFC).
It (Saham Group) is present in about 20 countries with 46 subsidiaries and approximately six thousand employees.
BY Melvin Tarlue